12½" Spacing Wheel Offset Harrow
Our most massive tool, the G2 Wheel Offset Harrow features 12½" blade spacing and measures 54″ from the top of the frame to the bottom of the blades. Weighing from 10,179 to 18,341 pounds, it is perfect for challenging conditions like breaking up new ground and heavily wooded site preparation. The G2 is also built to withstand the toughest construction industry tasks. To handle the G2 power, AMCO designed an oversized 5″x 16″ x 2½" hydraulic cylinder with special clevis that lifts the harrow into transport position on dual wheels.
Learn more about the Down-to-Earth Advantages of the G2. (PDF download)
​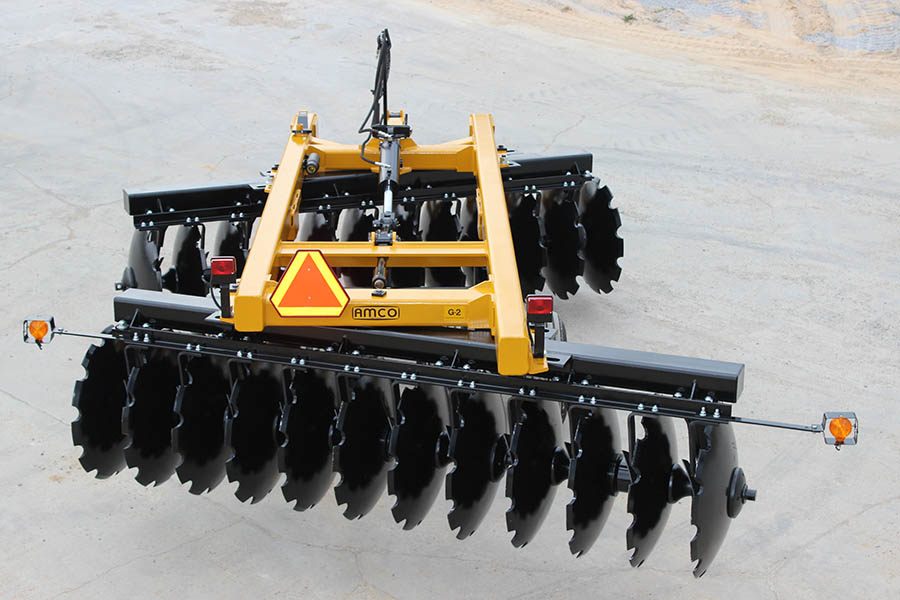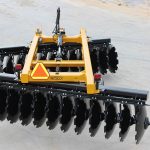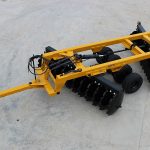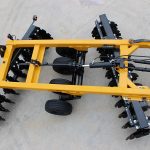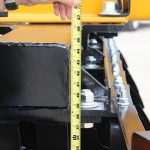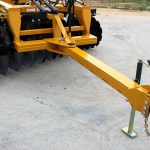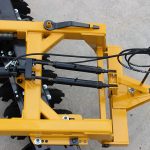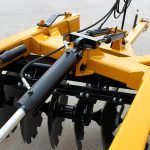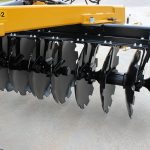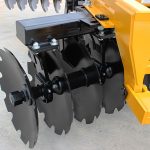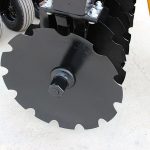 Features standard 32″ x ³⁄₈" cutout blades with back-up blades on 12½" spacing; welded spacer spools provide longer life
Other blade options: impressive 36″ x ½" cutout blades; 32″ x ³⁄₈" smooth blades; feathering blade with scraper for rear gang
Weight per blade: 379–550 pounds depending on unit
Cutting width: 10'4″ to 20'4″ depending on unit
Dual spring stabilizers level unit in changing ground conditions and absorb rough terrain
Extra-heavy-duty gang bolt with thread and nut cover assures problem-free work; wrench included
2¾" triple-lip sealed, greaseable ball-type, toggle-mounted Protect-O-Shield® Bearings
Adjustable gang angle controls how aggressive the cut is
DIAL-A-DEPTH assures plowing at desired depth
³⁄₁₆" x 6½" x 8″ blades welded to 3″ x  ⁵⁄₈" arm; scrapers mount to 3″ x 3″ x ½" angle iron bolted to arm
Transporting lockout, safety chains, slow-moving placard, and light kits included
3 different tongue settings for left and right offset positions
Dual 15″ x 10″ wheels with extra heavy-duty 8-bolt hubs and 12½" x 15″ 12-ply tires allow for positive depth control and make between-field movement easy; heavy-duty 5″ diameter rock-shaft pivots on greaseable pillow block bearings
Powder-coated finish for enhanced durability
See the table below for specifications and features or download the product literature. Complete information available on request.
Watch for more G2 Wheel Offset Harrow features
Watch the G2 Wheel Offset Harrow in action
---
AMCO FAQ: The normal cutting depth of a disc is about one-third the blade diameter. For example, the cutting depth of a 32″ blade is about 11″. Read more in our FAQ section.
---
*Weights shown for models with 32" blades. Add 50 lbs. per blade for models with 36" blades.
**Auxiliary bar is standard equipment on 20'4″ unit.   
Specifications for all models subject to change without notice.
---
AMCO-Exclusive Product Performance Guarantee – Repair, Replace, or Refund: AMCO Guarantees Performance – The best tillage tools deserve the best guarantee. The AMCO guarantee is simple. If, during the first 30 days, your AMCO equipment doesn't perform as promised, and if we don't make it perform in a reasonable amount of time, we'll repair it, replace it, or buy it back.
---