Bedding Hippers / Rigid & Hydraulic Toolbars
We know crops, techniques, and regions vary. That's why AMCO builds your Heavy-Duty Toolbar and High-Clearance Bedding Hipper Assembly to fit your needs. Reinforced by our AMCO heavy-duty construction techniques and commitment to durability, these tools keep you out of the shop and in the field.
Bedding Hipper Assemblies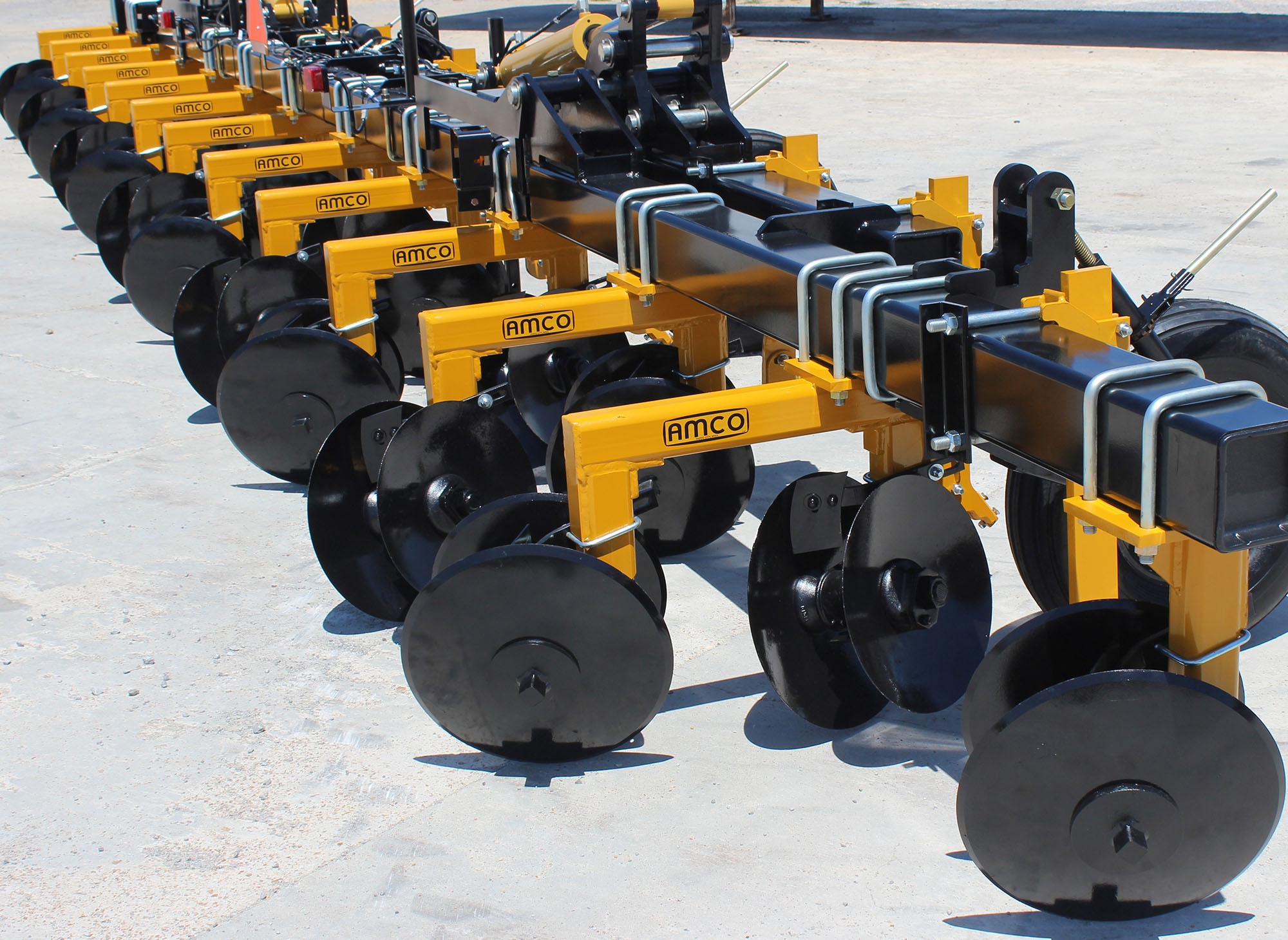 Bedding Hipper Assembly performs in high-residue conditions and offers trouble-free seedbed preparation
Blade sizes from 16″ to 24″; choose from smooth or cutout blades
Hippers feature 1½" square axles and Protect-O-Shield® Bearings to eliminate blown seals and prevent wrap damage; backed by our exclusive two-year warranty; each housing features two bearings for added durability
Bedding Hipper Assemblies
| Blade Configuration | Blade Options |
| --- | --- |
| Single Blade | Cutout or smooth blades. Choose from 16″, 18″, 20″, 22″, or 24″ blades. |
| Double Blade | Cutout or smooth blades. Blades paired to order; choose from 16″, 18″, 20″, 22″, or 24″ blades. |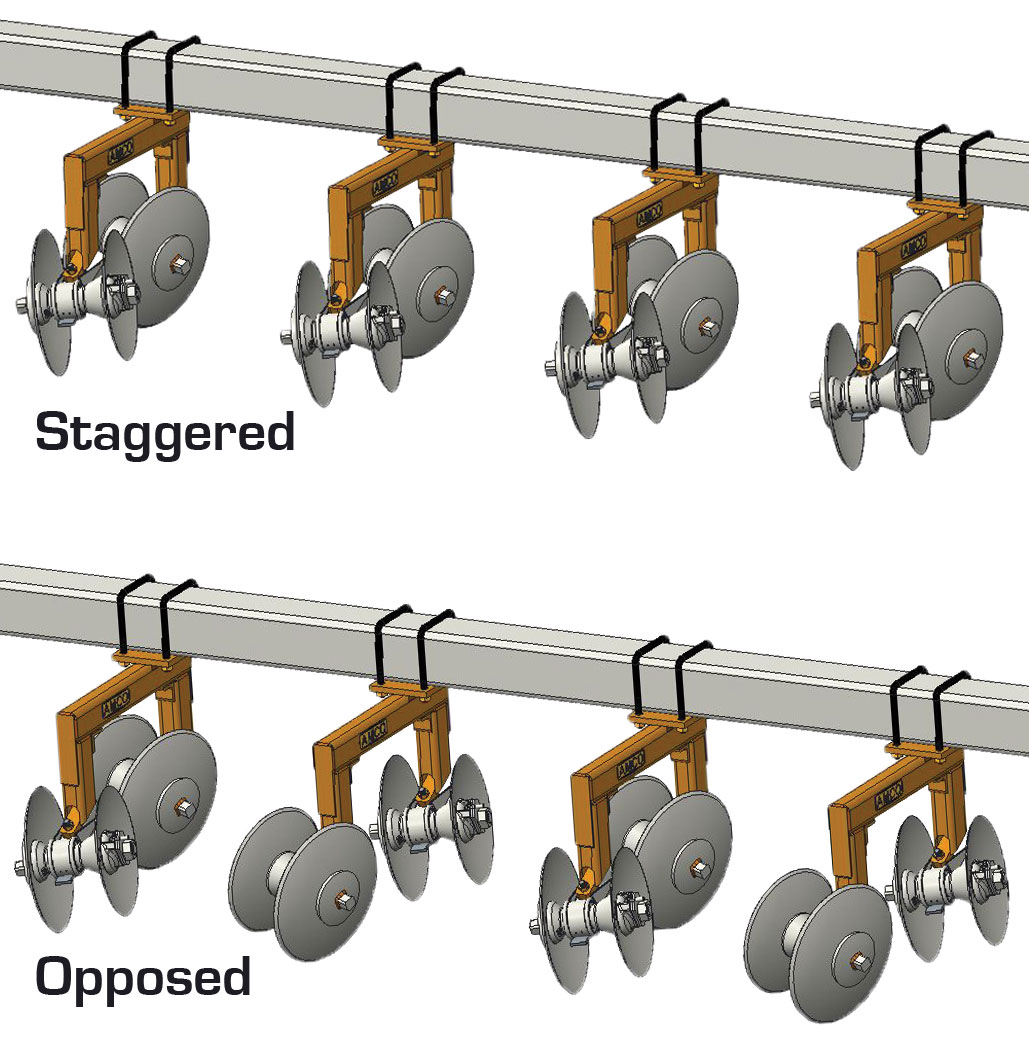 Choose from three Heavy-Duty Toolbar options: hydraulic folding dual toolbar, hydraulic folding single toolbar, or rigid single toolbar
Folding models are designed for easy transport and storage; dual folds flat, single folds to 90º
Dual toolbar features a locking-style hinge that engages during hydraulic folding process to keep wings from floating up during operation
All-welded gang frames attach to toolbar with two ⅞″ heat-treated U-bolts
Adjustable gangs offer three positions to achieve desired seedbed height
Heavy-duty, high-clearance fabricated gang frames can be staggered for extreme residue conditions or opposed for normal operation
Features a rugged, tubular, welded, steel-reinforced frame with a durable powder-coated finish
We also offer the Heavy-Duty Toolbar models and Bedding Hipper Assemblies for purchase separately. See the Model & Specs table for specifications and features. Complete information available on request, or download the product literature.
Toolbar Options
| Type | Cutting Width | Transport Width | Description | Rows and Spacing |
| --- | --- | --- | --- | --- |
| Rigid Single Toolbar | 280″ | 23'4″ | Single toolbar, 7″ x 7″ x 3/8″, heavy-duty rigid, non-folding | Fits row spacing of 36″-40″ for 6-row or 30″-32″ for 8-row |
| Rigid Single Toolbar | 344″ | 28'8″ | Single toolbar, 7″ x 7″ x 1/2″, heavy-duty rigid, non-folding | Fits row spacing of 38″-40″ for 6-row or 36″-42″ for 8-row |
| Hydraulic Folding Single Toolbar | 264″ | 16′ | Single toolbar, 7″ x 7″ x 3/8″, heavy-duty hydraulic, vertical folding | Fits row spacing of 38″-40″ for 6-row |
| Hydraulic Folding Single Toolbar | 346″ | 20′ | Single toolbar, 7″ x 7″ x 1/2″, heavy-duty hydraulic, vertical folding | Fits row spacing of 36″, 40″, and 42″ for 8-row |
| Hydraulic Folding Dual Toolbar | 367″ | 16′ | Dual toolbar, 7″ x 7″ x 3/8″, heavy-duty hydraulic, flat folding | Fits row spacing of 30″ for 12-row or 30″-36″ for 10-row |
| Hydraulic Folding Dual Toolbar | 497″ | 22′ | Dual toolbar, 7″ x 7″ x 3/8″, heavy-duty hydraulic, flat folding | Fits row spacing of 36″-40″ for 10- or 12-row, 30″ for 16-row |