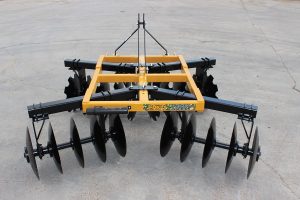 The Wicked Warrior™ may be smaller than AMCO Manufacturing's other disc harrows, but it offers the same rugged build and versatility AMCO products have been known for since 1947. Ideal for a wide range of applications—from residential gardens, to commercial landscaping, to seedbed preparation for food plots―the Wicked Warrior is designed to be used on small horsepower tractors.
Built with the hobbyist and homeowner in mind, the Wicked Warrior breaks up and levels the earth, creating the perfect seedbed for a garden or a smooth surface for seeding or sodding. Other applications include small nurseries, small hobby farms, other medium-duty residential jobs, wild game food plots, municipal beautification or maintenance programs, and construction.
"We're excited about several features on the Wicked Warrior," said Michael Atwood, AMCO marketing manager. "The axles are 1¹⁄₈″, while other companies only offer 1″. The Wicked Warrior also comes with greaseable bearings, which extend the life of the tool and protect it from damage, keeping you out of the shop and in the field."
Another unique feature on the Wicked Warrior are the gang axle nut locking plates. These specially designed locking plates secure the gang axle nuts in place so that all of the gang components stay tight for trouble-free operation.
Changing soil conditions are no problem, as the gang angle is easily adjustable with the pull of a pin. In tough, uneven conditions, a more aggressive angle can be used to tear up the soil, while a lesser angle can provide an even finish.
Other features include:
Main frame—2″ by 3″ square tubing with 3″ by 3″ cross braces ³⁄₁₆″ thick
Gang frames—3″ by 3″ tubing ¼″ thick
18″ by ³⁄₁₆″ standard blades
Quick hitch compatible
Heavier-duty reinforced bearing risers with extra bracing
If you would like more information on the Wicked Warrior, please call us at 800-748-9022 or email sales@amcomfg.com.