Choosing the right blade style for your disc harrow can be tricky. 
When you're purchasing a new disc harrow, you'll need to decide what style of blades will be the best fit for your operation: cutout (notched) blades or smooth (solid) blades. Which you choose comes down to what soil type you'll be operating in and the amount of vegetation or residue you'll be cutting through.
Sandy, loose, typically dry soils are inherently easier to cut through. In these soil types and conditions, smooth blades are a logical fit. They'll slice through the soil like a knife with a continuous plowing action, leaving an even, level soil surface. If Mother Nature has been cooperating, the field may not require another pass with a bedding hipper or roller to smooth it out before planting.
Did you know? Because they have more surface area, smooth blades wear better than cutout blades. They are also heavier, lending more cutting power to the unit as a whole.
Heavy, wet, "gumbo" soils are likely to require cutout blades to work the soil adequately. A cutout blade will work through the heavier soils with less gumming up because it keeps rotating, leaving a more irregular surface with larger clods. A second pass with a seedbed preparation tool will be necessary to prepare the soil for planting.
Cutout blades also power through heavier crop residue more easily than smooth blades, and are a good choice if you're working ground for the first time and will be encountering tree roots and other tough vegetation. A cutout blade will help cut and toss the root systems for better residue breakdown. Discs for construction operations almost exclusively feature cutout blades because of the high-residue situations and variety of conditions they are expected to perform in.    
To get the best of both worlds, consider going with a disc harrow with the best of both worlds: cutout blades on the front to work through tougher residue or wet soil and smooth blades on the back for a smoother finish. This setup works very well for pasture re-seeding; after cattle have compressed the dirt, cutout blades are needed to effectively break the surface, but smooth blades on the back finish the soil just enough for ryegrass seeding—no second pass to further smooth the soil required in most conditions.
Did you know? AMCO offers you the option of ordering your disc from the factory with cutout blades on the front and smooth blades on the back.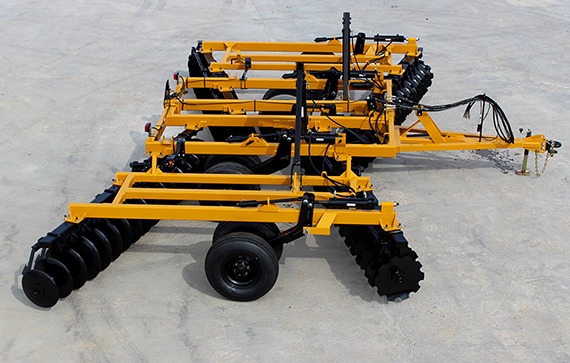 AMCO's F15 Double Offset Tandem Disc Harrows are available with a combination of cutout blades in the front and smooth blades in the back, or choose a complete set of either blade style.
If you still have questions about which blade style is right for your operation and needs, the AMCO tough tillage team is here to help. Find your closest AMCO dealer using our dealer locator, or contact AMCO today at 800-748-9022.