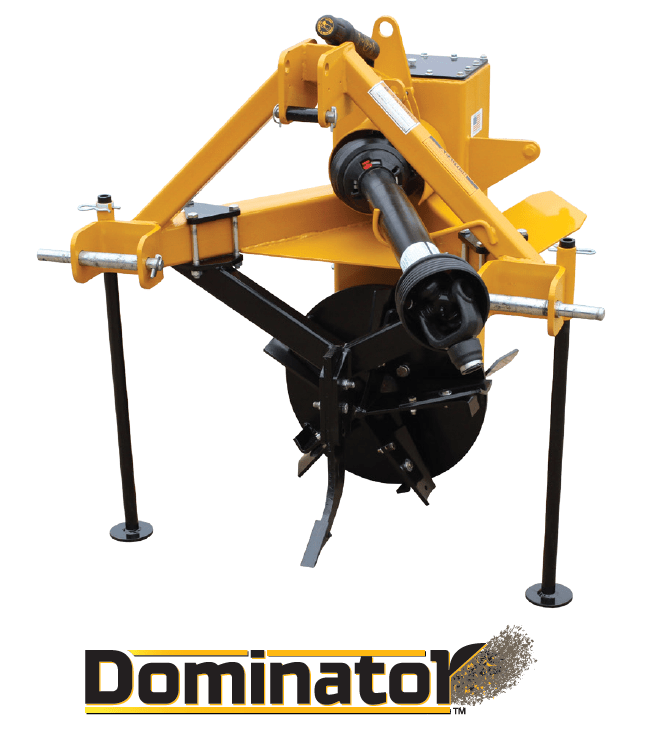 From coupler to cutter head, AMCO Manufacturing Company is known for making high-quality, affordable vertical and offset rotary ditchers that direct water away from crops and clean roadside ditches. In 2023, AMCO is introducing a new ditcher to the lineup: the Dominator Vertical Rotary Ditcher.
"The Dominator has the same features, benefits, and capabilities as our original vertical ditchers, but on a bigger scale," explained AMCO Marketing Manager Charlie Lane. "Its robust, heavy-built frame adds durability and longevity. The Dominator can be used with larger tractors with horsepower in the 80–200 range."
The Dominator clocks in at an impressive 850 lbs., with a body casing of 14″ x 10″ x 36″. The cutter head width is adjustable from 24″ to 26″. Like other AMCO ditchers, the cutter heads feature five heat-treated blades that are replaceable.
"We expect to see the Dominator used on row crop farms in the Delta or along river bottom land, where conditions are wet and it's crucial to efficiently drain standing water away from crops to keep them from drowning," said Lane. "But really, the Dominator is an essential tool for any farm or operation looking to improve water management."
More Key Dominator Features:
A case-hardened dual #80 heavy-duty chain with 16-tooth and 22-tooth drive sprockets
Series 55 PTO drivelines with shear bolt protection
A concave skid shoe design with a quick-adjust ratchet for better tracking and a more uniform ditch
A powder-coated finish that is more durable and environmentally friendly
A ripper shank to loosen tough soils and prolong bearing life (bearings come with a two-year warranty)
An all-tube steel 3-point hitch (standard transportation loop welded to the top of the hitch); compatible with category II and III 3-point hitches
To learn more about the Dominator, email sales@amcomfg.com or call 800-748-9022.
About AMCO
Since 1947, AMCO Manufacturing Company has produced a wide range of primary tillage implements and farm equipment engineered for the farm, wildlife, forest, and construction industries. AMCO products are making a difference for today's production agriculture operations.