AMCO Manufacturing Company has made another upgrade to its standard equipment as part of its ongoing efforts to give customers more value and performance for their money. The scraper system included on AMCO's larger-frame disc harrows, offset harrows, and levee and terracing plows is now constructed from ultra-durable 2½″ x 2½″ square tubing rather than angle iron. Heavy-duty mounting brackets are now also standard.
"The new square tubing makes our large-frame scraper system more than twice as strong as the design we use for our smaller-frame models," said Michael Atwood, AMCO marketing manager. "We are pleased to be able to bring this significant upgrade to our customers without a cost increase.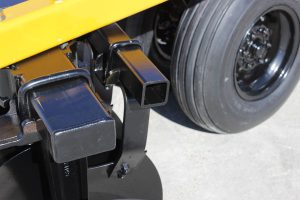 "The new scrapers will hold up better in high residue and wet conditions, and will just overall have a longer lifespan," said Atwood.
The large-frame scraper system now also features 2½″ x ½″ thick arms that can bear more weight due to a new vertical rather than offset design. The scrapers are attached to the arm with heavy-duty U-bolts. "We considered a lot of factors when designing the best scraper system for our larger models, like the weight the axle bears and the number of blades per gang," said Atwood.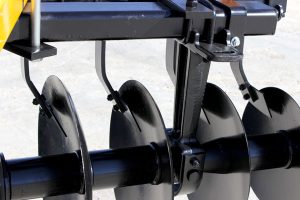 Blades on the scraper are made from high-carbon steel, measure 3/16″ x 6½″ x 8″, and are adjustable and replaceable. Models using the new scraper system include the F15, F15B, C15, F17, F41, F42, J41, J42, J43, G2, LF6, MLJ6, MLF6, and TJ3. The J44 already featured the larger-frame scraper system.
All AMCO products will still ship with the scraper blades attached so no adjustment is needed until after a bearing adjustment is made. AMCO recommends users maintain a ¼″ spacing between the blade and the scraper so that dirt can flow through without putting too much pressure on the blade.
About AMCO
Since 1947, AMCO Manufacturing Company has produced a wide range of primary tillage implements and farm equipment engineered and designed for production agriculture and the wildlife, forestry and construction industries. Our experienced staff is committed to the needs of our customers and strives to improve your productivity. We offer quality, value, durability, convenience and performance in all our products and service.