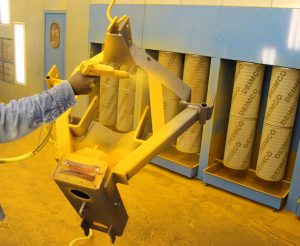 AMCO now powder coating all equipment
AMCO Manufacturing Company is known for building rugged, field-proven primary tillage implements and farm equipment for the agricultural, farming, wildlife, forest, and construction industries. Now AMCO powder coats its equipment, further increasing the durability of its products.
"Our powder-coated finish is more than twice as durable as a wet-paint finish and has better coverage," said AMCO Manufacturing Engineer JD McKeigney, who led the implementation of the powder-coating system. "It's more scratch resistant—if the tool gets dented or dinged, the coating will flex a little rather than beginning to flake off."
Once the equipment leaves the oven and cools, it is completely cured. As a result, AMCO expects to reduce its lead times—which are already industry leading—by 10 percent. "The finish is also very resistant to fading," added McKeigney.
AMCO's 85,000 square-foot manufacturing space was revamped to include a 14x12x36-foot batch powder-coating booth. Paint technicians are armed with the latest application guns from GEMA, the Optiselect GMO3.
The upgrade to the painting system is just the latest step in AMCO's plan to revitalize its manufacturing setup. Last year, 800 new feet of rail was installed in the assembly area to improve flow throughout the plant and make it easier for assemblers to move parts through the lines.
"At this stage in our nearly 70-year history, AMCO is very focused on modernizing our processes and equipment so that we are continually building on the value we offer to our customers," said Marketing Manager Michael Atwood. "Our customers know tough tillage tools, and we aim to exceed their expectations with new and innovative products and features."