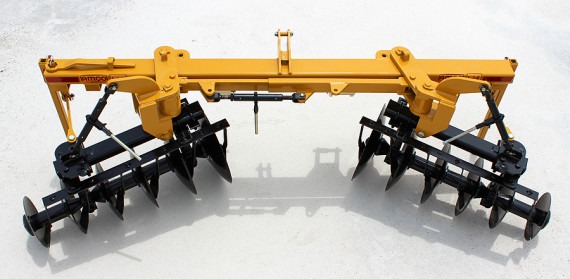 Before you know it, rice planting season will be here. When building a levee, keep these tips in mind.
Choose the right equipment. AMCO's revolutionary hydraulically controlled LF6 and LJ6 Levee Plows raise the bar for value, convenience, quality, performance, and durability and are ideal to get your field ready for rice. Designed to build a levee in fewer passes, they save you time and money. AMCO also manufactures Manual Levee Plows.

LF6 and LJ6 Hydraulic Levee Plows feature on-the-go gang tilt adjustments, completely controlled from the tractor seat, allowing the operator to reduce the number of passes required, saving time and fuel. They're also available in a manual version with turnbuckles: MLF6 and MLJ6. Both Manual and Hydraulic Levee Plows are available with 9″ or 10½" blade spacing and feature reversible gangs so they can tear down as well as build up levees. Cutting weights vary from 216 to 254 pounds per blade depending on the model.

Visit our product page for more photos and features.
Avoid plowing up large clods on the first pass by limiting the depth of the cut. The core of the levee should consist of fine soil particles to prevent water seepage.
Allow time for the soil to dry between passes unless it's unavoidable. Dry soil facilitates pulverizing large clods, which make a porous levee and a poor seedbed for rice planted on the levee.
Make the right number of passes. Under normal conditions, no more than three passes will be required to form a levee. Depending on soil conditions and the depth of water to be held, a levee may require only one pass.
Use the proper gang-tilt angle for all passes. During the first pass the two middle disc blades do most of the work of forming the levee. By limiting gang tilt and primarily using the middle blades on subsequent passes, a narrow, steeply slopped levee can be built with a shallow borrow furrow on the sides (a borrow furrow is formed when nearby soil is "borrowed" to build the levee).
Add the optional feathering blade kit available for AMCO. It helps reduce the effects of a steep borrow furrow.
Leverage the burrow furrow. It can be used as a channel to help drain the rice field.
Consider center packing. It can be effective to pack the center of the levee with one or two passes of the tractor wheels to provide an impervious core before making the final pass.