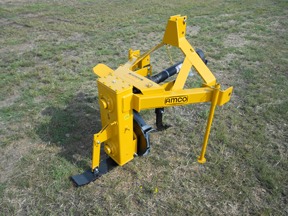 A 26″ ditcher cutting head is the latest addition to the AMCO Rotary Ditcher product line. The robust 26″ cutting head gives farmers the ability to dig larger drainage ditches for improved water drainage in any crop or soil type.
"The larger cutting head will make digging, maintaining, and cleaning irrigation ditches, laying polypipe, and controlling flood waters and drainage even easier," said Michael Atwood, AMCO marketing manager.
The bigger head creates a wider cut, which places less stress on tractors when running over the ditch. Soil may be spread to an average of 30 yards in dry conditions and 50 yards in wet.
The new cutting head attaches to the same heavy-duty compact ditcher body. The 26″ cutting head comes with AMCO's standard buster shank, which increases bearing longevity. The new ditcher models AD30-18 and AD35-18 are only available in 1,000 PTO. "Our customers will find the bigger ditcher head is great addition to our line of AMCO Ditchers," said Atwood.
All AMCO Ditchers come with an adjustable skid, enabling ditch-digging with single or multiple passes. Parking stands, which come standard, hold the AMCO ditcher in place for ease in disconnecting and connecting to the tractor, and a chain support keeps the PTO shaft properly positioned for easy connection.
The ditchers feature five replaceable cutter head blades made of replaceable, heat-treated, high-carbon special abrasive resistant steel; four triple-lip, sealed ball bearings; and a universal drive shaft that is telescoping and fully shielded. The chain drive is a heavy-duty, endless double #80 roller chain with one-inch pitch. The chain runs continuously in a sealed oil bath, and sprockets are case-hardened on both models. "Our ditchers are the most reliable on the market," said Atwood. "Like everything at AMCO, they are built to withstand the demands of today's farming environment. With our replaceable heat-treated blades and dual chain drive, you'll be able to see the difference in ditches made with AMCO ditchers."
Since 1947, AMCO Manufacturing Company has produced a wide range of primary tillage implements and farm equipment engineered and designed for the agricultural, farming, wildlife, forest, and construction industry. AMCO products are the perfect fit for today's production agriculture.
18″- 20″ CUTTER HEAD
Smaller ditch at any depths
For smaller ditches and less flow
More narrow ditch at deeper depths for less jarring of a tractor tire
Cat. II and III point quick coupler hitch
Dual sprockets and dual #80 chain
4 replaceable heat-treated high-carbon blades
Adjustable skid
Buster shank
Available in 540 and 1,000 PTO
AMCO ditcher frame
Standard PTO shaft
Chain, bearings and sprockets emerged in a sealed oil bath
Damaged prevented by shear bolt on PTO drive shaft
DITCHER FEATURES
Wider ditch at shallower depths or larger ditches at deeper depths
For wider ditches for more flow and shallower cuts when needed
Wider ditch at shallower depths for less jarring of the tractor
Cat. II and III point quick coupler hitch
Dual sprockets and dual #80 chain
5 replaceable heat-treated high-carbon blades
Extended adjustable skid to accommodate the larger cutting head
Extended buster shank
Available in 1,000 PTO
Same durable AMCO ditcher frame
Heavier PTO shaft
Chain, bearings and sprockets emerged in a sealed oil bath
Damaged prevented by shear bolt on PTO drive shaft