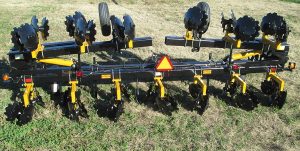 AMCO is pleased to announce the availability of 12-row 30″ and 16-row 30″ High-Clearance Bedding Hippers. The new models join the already-available 12-row 40″ assembly.
The perfect partner for your AMCO High-Clearance Toolbar, the AMCO Heavy-Duty Toolbar is the most rugged toolbar in its class. This toolbar is built to take the horsepower and ground-speed demands of today's production agriculture.
AMCO's field-tested, primary-tillage Bedding Hipper features a heavy-duty, hi-clearance, all-welded gang frame. The gang is equipped with 1½" square greaseable ball bearings (which are backed by a two-year warranty) and Protect-O-Shield® washers and wear guards. AMCO's gang assemblies are available with three blade combinations: 18″ and 20″, 20″ and 22″ or 22″ and 24″. All are adjustable to three different angles. Gang frames are securely clamped in place with two ⅞" diameter heat-treated U-bolts. AMCO offers an optional factory assembly service so the Bedding Hipper will arrive ready for the field.
Since 1947, AMCO Manufacturing, Inc., has produced a wide range of primary tillage implements and farm equipment engineered and designed for production agriculture and the wildlife, forestry and construction industries. Our experienced staff is committed to the needs of our customers and strives to improve your productivity. We offer quality, value, durability, convenience and performance in all our products and service.
If you would like more information on the stoutest Bedding Hipper on the market and our incentive program, please reply to this email or call us at 800-748-9022.
 TOOLBAR FEATURES
5″ x 24″ hydraulic cylinders with hoses to the tractor
Folds 170° for narrow transport
Toolbar wings can be hydraulically locked down or allowed to float
Over-center hydraulic wing lock
Heavy duty ⅜" wall tubing on center section and wings
Double frame construction
3-point hitch fits Cat III and Cat 4N
SMV emblem
Parking stands
Hazard lights
Optional ratchet for adjusting gauge wheels
BEDDING HIPPER FEATURES
Heavy-duty hubs with double-lip seals
2 bolts ¾" in diameter attach each hub to gang frames
Gangs have 3 different angle settings
1½" diameter square axles
All-welded extra heavy-duty gang frames
Attaches with 2 heavy-duty ⅞" U-bolts
High ground clearance prevents plugging
Optional blade styles and diameters to choose from
Optional blade scrapers
Find additional bedding hipper photos on our Facebook page.