AMCO's small discs pack a big punch
Ask any farmer what makes a quality piece of farm equipment, and one of the words you're likely to hear is "durability." While AMCO's large disc harrows are built tough to withstand harsh field conditions, so are the smaller disc harrow models used for farming and other specialized applications.
AMCO 3-point discs are available in a wide range of cutting widths from 4' to 10'2". The LTF Lift Offset Harrow and LOF Lift Offset Harrow have the same undercarriage as the largest AMCO disc harrow models.
The durability of AMCO's 3-point discs is the reason they are so popular. The 3-point discs are being used for food plots, on the sides of fields, for leveling turn rows, clearing right-of-ways, fixing soil erosion, and cutting firebreaks. "Customers love our product because when they hook it up it is ready to work," said Michael Atwood, AMCO marketing manager. "Our 3-point discs are also being used in the construction industry, which goes to show how tough they are."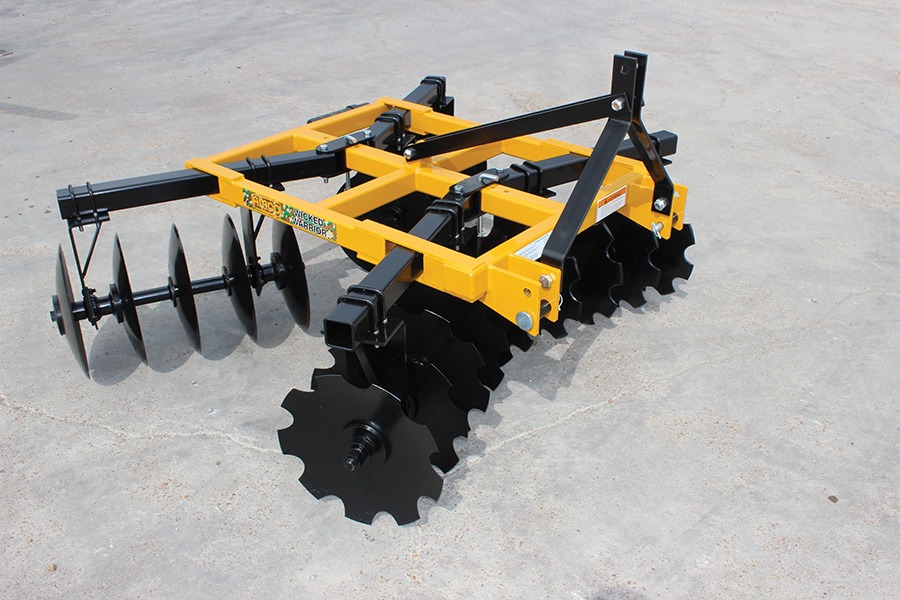 The Wicked Warrior Tandem Utility Disc (see photo above) is perfect for residential gardens, commercial landscaping, food plots, or hobbyists. This disc is built to the same rugged standards as all other AMCO disc harrows.
Available in four cutting widths: 4′, 5′, 6′, and 8′
Main frame – 2″ x 3″ square tubing with 3″ x 3″ cross braces 3⁄16″ thick
1⅛" axles with 18″ x 3⁄16″ standard cutout blades
Gang angle pin adjustable to offer aggressive tillage or soil finishing options
Category I or II quick-hitch compatible
Welded spacer spools
Two-year warranty on greaseable bearings
The LOF Lift Offset Harrow and LTF Lift Offset Harrow can be used for building and maintaining food plots, logging roads, gardens, turn rows, and firebreaks, as well as seedbed preparation, pivot turn management—or anything else you can throw at them.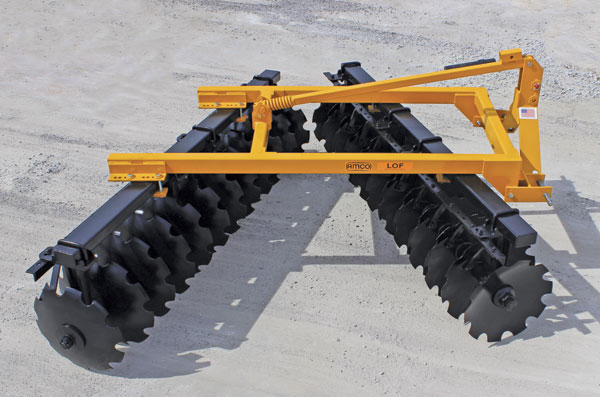 LOF (see photo above) features:
Greaseable ball-type, toggle-mounted Protect-O-Shield® Bearings with zerk and wear guards, guaranteed for two full years
1½" square, high-carbon, cold-rolled steel axles
HD high-carbon steel scraper blades on ½" x 1½" shanks mounted on 2″ x 2″ x 3⁄8″ high-carbon angle iron bars
Standard 24″ x ¼" cutout blades on 9″ spacing
Category II or III quick-hitch compatible
Optional plain blades as well as different blade sizes available
Adjustable gang angle
Welded spacer spools
Powder-coat finish for better coverage and durability under rugged conditions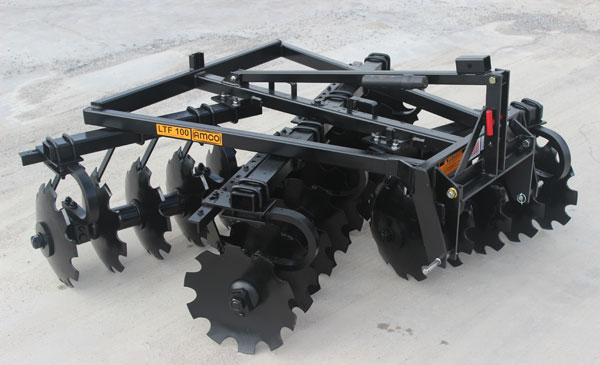 LTF (see photo above) features:
Protect-O-Shield® Bearings, guaranteed for two full years
18″ x ¼" cutout blades on small-frame harrows and 22″ x ¼" cutout blades on large frame harrows
1½" square, high-carbon, cold-rolled steel axles
High-carbon replaceable blades on heavy-duty scrapers to keep blades free from debris (scrapers are not standard on small-frame models)
Powder-coat finish
More product information can be found at our website, or click here to watch the impressive performance of the LTF.
Tips for making your AMCO discs last even longer
Keep all bolts tight. Check after first 50 hours or one week's operation. Visually inspect all bolts daily.
Grease gang bearings daily with a hand grease gun and a good grade of clean, number 2, lithium soap base grease. Always wipe fittings clean before greasing. Apply grease until old or dirty grease is purged from bearings. Avoid high-pressure greasing.
Keep gang bolts tight! Tighten after first day's operation. Do not run with loose disc blades. If gang bolts have been operated in a loose condition, re-tighten, then tighten again after 30 minutes use, again after 4 to 5 hours, and again after 8 to 10 hours.
Inspect for damaged or misaligned parts if gangs do not turn smoothly by hand. Bearings will fail prematurely if operated with misaligned or damaged gang parts. If a gang is operated for one or more hours following a bearing failure, replace all bearings on the gang.
Do not operate the disc with foreign objects entangled in the gangs.
Avoid sharp turns while disc is in the ground.