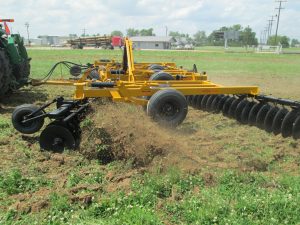 AMCO is proud to announce the availability of the new C15 Double Offset Flexwing Tandem Disc Harrow. This finishing disc features blades spaced at 7.5″ and is built from our field-tested, heavy-duty F15 disc frame that has proven itself year after year as a tough tillage tool.  
"Today's production agriculture industry operates at faster grounds speeds and with more horsepower. Backed by our AMCO heavy-duty construction techniques and commitment to durability, the C15 keeps you out of the shop and in the field," said Marketing Manager Michael Atwood.
Perfectly suited for primary or secondary tillage, seedbed prep or incorporation of chemicals, the C15's 7.5″ blade spacing forces dirt and residue to break down into finer pieces. "To alleviate the tendency to clog that comes with narrow blade spacing, we've engineered a scraper for the C15 that is installed next to the bearings, where clogging is most likely," said Atwood.
Another great feature of the C15 are the flexwings, which are designed to follow the contour of your field for a smooth and even finish. The C15 has 1½" square cold-rolled, high-carbon steel alloy axles. Standard options include your choice of either 24″ smooth or cutout disc blades with steel 7.5″ spacer spools that come standard. Other blade sizes are also available. All C15s come with replaceable high-carbon steel scraper blades mounted on heavy-duty shanks.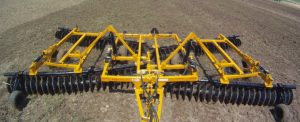 If you would like more information on the high-performing C15 Double Offset Flexwing Tandem Disc Harrow call us at 800-748-9022. AMCO offers programs for dealers throughout the year—ask about our current incentives.
THE C15 Double Offset Flexwing Tandem Disc Harrow FEATURES:
7.5″ blade spacing
Protect-O-Shield® triple-sealed greaseable bearings with industry-leading two-year warranty 
Optional blade sizes
Standard bearing risers
90″ tongue for dual wheels complete with tongue jack
Safety lights
Hydraulic hoses complete to tractor
Depth gauge wheels
Contour-following Flexwings
Hydraulic tongue optional