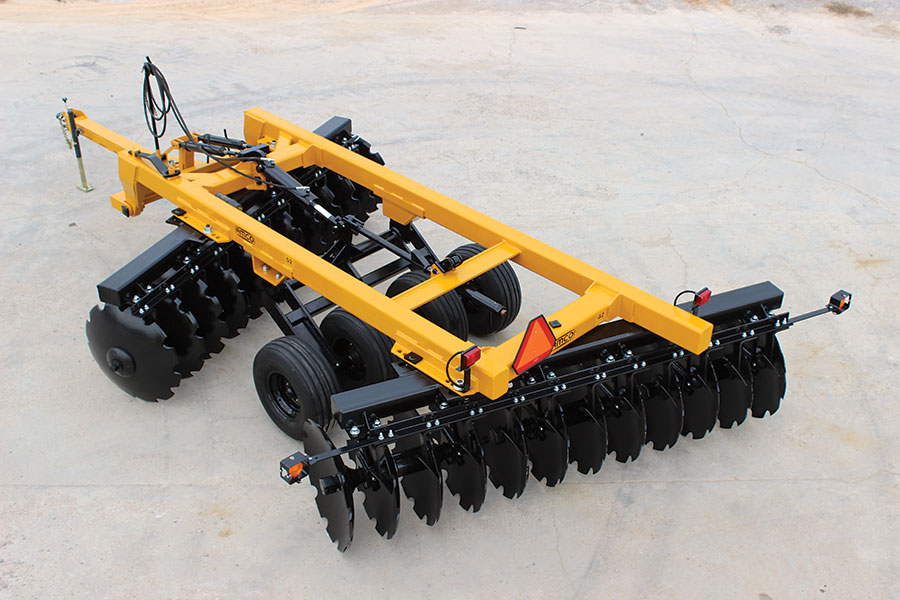 As AMCO's most massive tool, the G2 Wheel Offset Harrow is famous for its primary tillage performance in tough conditions. But did you know the same features that make the G2 a force to be reckoned with during planting also make it an asset in the construction industry?
"In construction, equipment has to stand up to repeated heavy-duty use, impacts, moisture, sunlight, and weather," said AMCO Marketing Manager Michael Atwood. "The G2 has gained a reputation as a rugged harrow that can handle these demands."
The G2 is specifically designed to take on challenging jobs, like working ground that has never been broken before or operating in heavily wooded conditions. Dual spring stabilizers keep the G2 level in changing ground conditions and help the harrow absorb rough terrain.
Weighing in at an impressive 10,179-18,342 lbs., the G2 is equipped with 36″ x ½" cutout blades. It offers a maximum cutting depth of 18 inches and cutting widths of up 20 feet. This gives the G2 power to get down to the root system and move significantly more dirt than other products on the market, making it the ideal harrow for clearing away vegetation.
To handle the 379-550 lbs. of force per blade exerted by the G2, AMCO partnered with a local manufacturer to design an oversized hydraulic cylinder with a special clevis that lifts the harrow into transport position on dual wheels.
"The G2's scraper is another major advantage," said Atwood. "It's a welded system with a curved moldboard, which keeps the blade free of debris when you're cutting through trash, mixing, aerating, and leveling soil."
In addition to the scraper, the G2 has several other features that protect it from rough terrain, weather, and harsh impacts. The harrow's powder-coat finish is more than twice as durable as a wet-paint finish, protecting it from scrapes, abrasions, and flaking. The G2 is also equipped with 2¾" triple-lip sealed Protect-O-Shield® bearings, which eliminate blown seals and prevent wrap damage. Safety features include a transporting lockout, safety chains, a slow-moving placard, and light kits.
"The G2 Wheel Offset Harrow gets the job done," said Atwood. "It's an asset on any construction site, whether you're breaking up road beds, clearing underbrush, or breaking new ground."
If you have any questions or would like to learn more about the G2, contact our tough tillage experts today.
Did you know?  Three different tongue settings enable left and right offset positions on the G2.