Did you know?
Winter months don't have to be wasted—there are plenty of time-saving measures you can take to be ready for spring planting. Read more about which shortcuts are beneficial and which can be dangerous or destructive below.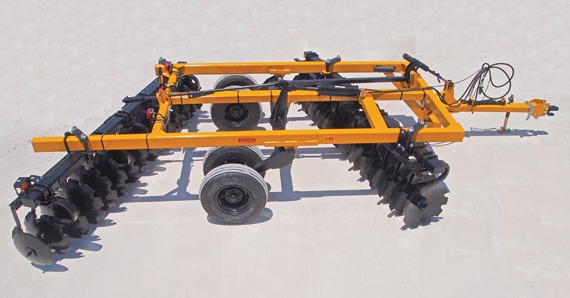 Tough residue? That's no problem with AMCO's J42 Wheel Offset Harrow.
This heavy-duty primary tillage tool cuts and sizes residue, eliminates clumps, and loosens packed soil, helping you prepare your ideal seedbed. Well-suited for a wide range of applications, this offset harrow is built with the same ruggedness and versatility that AMCO products have been known for since 1947.
AMCO tools may be built tough, but there's still one shortcut you should never take with your disc harrow. Read more below.
For more photos and information on the J42, visit our website.
The J42 is available in 50″ main frames or 86″ main frames (designated with a "B").
Features include:
Shock Absorber Gang Riser to help prevent damage from rocks and stumps; standard on the J42B
Protect-O-Shield® bearings to help eliminate damage from grease gun pressure or residue wrapping
High-carbon, cold-rolled 1½″ steel square axles
Standard unit comes with 24″ diameter x ¼″ thick smooth/plain blades with diminishing leveling blades
Optional blade diameters and thicknesses are available
Heat-treated spring steel scraper shanks, replaceable high-carbon steel scraper blades, and extra-heavy-duty scraper bars
Dual wheels for improved flotation
Heavy-duty 3,000 PSI hydraulic cylinders to adjust cutting depth and raise the disc for transport
Positive screw-type depth control for maintaining set cutting depth
Wear guards to protect bearing housings and zerk guards to protect grease fittings
Adjustable 88½″ tongue with base hitch and tongue jack
Backup blades provide added support for working blades
Outrigger frame of 16'6″ through 20'6″
Weights of 179 to 208 pounds per blade
Safety features include safety chains, slow-moving placard, and light kit
---
Do's and don'ts of farming shortcuts
Farmers are masters of finding ways to save time. But which shortcuts are beneficial, and which can be dangerous or destructive?
DO: Implement winter time-savers
After harvest, farmers finally have time to relax. But once you've taken some much-needed down-time, you can spend the off-season focusing on equipment repair and maintenance. That way, you'll make sure everything is in working order before the time-crunch in the spring.
Here are a couple steps you can take this winter to ensure fewer equipment failures and longer life for your farm implements:
Clean your equipment thoroughly.
Repair any damage your equipment sustained during the year.
Perform routine maintenance such as oil and fluid changes and air tire pressure checks.
Replace worn and damaged parts, such as rubber seals, planter chains, seed tubes, and seed conveyor belts.
Taking care of these steps now means you'll be ready to leap into action in the spring. For a complete planter tune-up checklist, read the January 2014 Leading Edge, published by Yetter Manufacturing.
DON'T: Take winter safety shortcuts
Just because you're not in the field doesn't mean you can be lax about safety. Make sure to follow all necessary safety precautions when making your winter repairs. For example, Gary Huitink, an agricultural engineer and safety expert with the University of Arkansas Cooperative Extension Service, reminds farmers of the dangers of jump-starting tractors. Failure to follow the proper steps when jump-starting led to between 50 and 100 deaths nationwide in a recent year.[i] Always make sure equipment is turned off before starting maintenance or repairs.
DO: Plan ahead to save time in spring
Winter is the perfect time to fine-tune your spring planting plan. Especially in wet springs when planting is delayed, every minute counts. Having a plan in place can help, even if you can't foresee every scenario. Delta Farm Press recommends saving time during planting by efficiently planning your labor, such as having two people to run the planter and one to do seeding, maintenance, and any other problems that might arise.[ii]
Even though it may seem like you don't have a second to spare during planting, never take shortcuts with safety. Though it takes a little longer, inspect your equipment between runs to make sure everything is still in working order. If any damage has occurred, it is worth it to make the repairs before continuing.  
DON'T: Damage equipment in the field
It can often be tempting to take shortcuts while planting or discing that will have you kicking yourself later. For example, running over large objects when planting can damage equipment—instead, inspect fields beforehand to remove objects like fallen tree limbs so you don't have to stop your equipment. Another time-saver that should be off-limits is turning equipment with the disc down—it may save a couple minutes, but is it worth the broken discs or bent frame?
Keep these tips in mind, and look forward to a safe, profitable winter and 2015 planting season.
[i] http://deltafarmpress.com/ag-engineer-says-no-shortcuts-equipment-safety
[ii] http://deltafarmpress.com/delayed-planting-makes-efficiency-labor-crucial