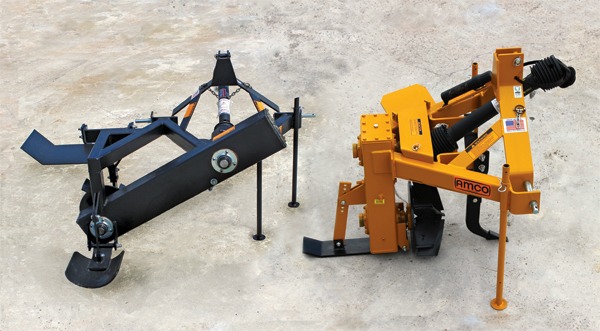 Our Rotary Ditchers are reliability tested, field proven, and perform in wet or dry conditions. Clear roadside ditches or direct water away from crops with this top-performing tool.
Both our Standard and Offset Rotary Ditchers are engineered to outperform your expectations. If you often deal with wet conditions, consider our new Offset Rotary Ditcher with its unique design that allows it to run directly behind the left rear tractor tire so the ditch is dug in the track, improving drainage even further. Watch the offset rotary ditcher in action.
We have three offset and five standard models to choose from in two cutting width options: 18″ to 20″ adjustable or 26″. 
For more photos and info on our Standard and Offset Rotary Ditcher, visit our website.
All models are shipped from the factory completely assembled and ready for work. They feature:
Five replaceable high-carbon steel cutter heads that have been heat treated and rotate at 740 RPM. Driving the cutter head is a dual, heavy-duty, endless double #80 roller chain with 1″ pitch that runs continuously in a sealed oil bath
A chain drive constructed of 6″ x 10″ x ¼" tubing welded into the rigid, one-piece, all-welded main frame. Each chain drive also has an adjustable idler sprocket with case-hardened teeth
A-frame construction with category II and III 3-point hitches; is quick-hitch compatible
A ripper and ripper point as standard equipment