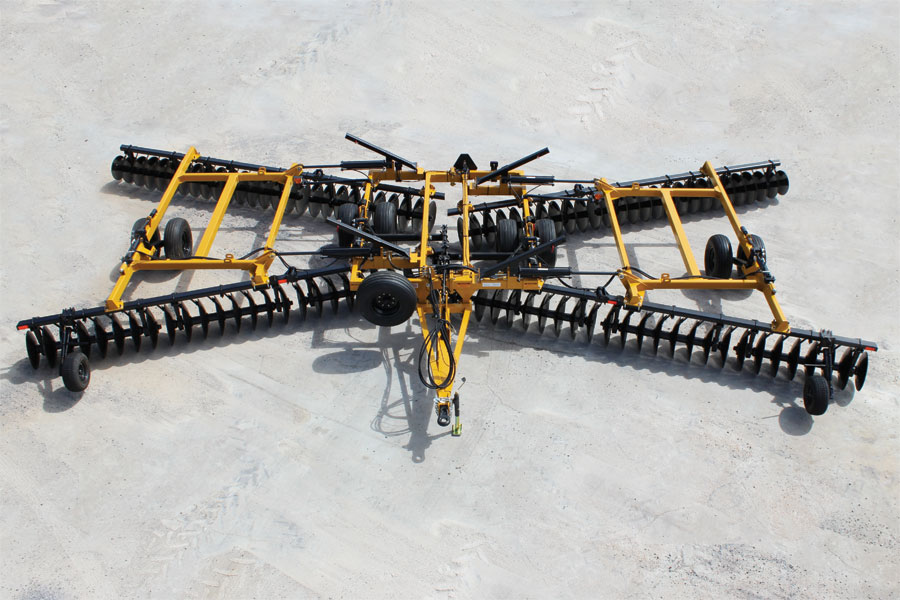 As all farmers know, there's no rest after harvest—as soon as the crops are in, it's time to prep seedbeds for the next planting season. Fall fieldwork is key to generating good emergence and yield, so it's important to get it right. Here's a few reasons why AMCO's F15/F15B Double Offset Tandem Disc Harrow is the perfect tool for the job:
The F15/F15B breaks up soil compaction. Folding flexwings follow the ground contour, while the unit's double offset tandem design smooths the soil. This action breaks up compaction caused by heavy combines and other equipment, setting you up for the perfect seedbed.
The F15/F15B manages residue. Overlapping front discs cut through tough residue, evenly incorporating it into the soil where it can break down and release nutrients. As an added bonus, breaking up residue also promotes accurate seed placement, since un-decomposed residue can interfere with seed drills in the spring.
The F15/F15B incorporates chemicals. Fall is the time to promote the health of your field, whether that means applying fertilizer to supplement nutrient deficiencies or herbicides to control weeds. The same overlapping discs that cut through residue also incorporate chemicals.
To learn more about AMCO's F15/F15B Double Disc Tandem Harrows, contact our team of tough tillage experts.
---
Did you know? The F15/F15B now features maintenance-free bearings. Like the Protect-O-Shield® Bearings AMCO has used in the past, these bearings are triple-lip sealed and feature a protective shield that covers both sides of the bearing to defend against dirt and debris. Because the bearing is trunnion-mounted and maintenance-free, there is no need for daily lubrication.
---
Down-to-Earth Advantages of F15/F15B Double Disc Tandem Harrow
Disc gang features maintenance-free bearings with three-year warranty; bearings eliminate possibility of contamination and need for re-lubrication
1 1/2″ square cold-rolled, high-carbon steel axles
All models feature smooth blades with two feathering blades on the rear gangs; blade sizes are 22″ x 1/4″, 24″ x 1/4″, or 26″ x 1/4″, depending on model and options chosen
Diminishing blades in the center of the double offset tandem design achieve a berm-free, level seedbed with no additional tools required
3/16″ x 6 1/2″ x 8″, high-carbon steel, replaceable, adjustable scraper blades mounted on bars of 2 1/2″ x 2 1/2″ square tubing; the scrapers are attached to the 2 1/2″ x 1/2″ thick arms with heavy-duty U-bolts
15″ x 10″ 8-hole wheels and 8-hole hubs are standard equipment on 94-blade and 106-blade models (center section only)
90″ tongue with jack enables sharper turns on dual-wheel tractors
Hydraulic hoses connect to front of main frame
Adjustable clevis of ductile iron with transport adapter
Heavy-duty 3,000 PSI hydraulic cylinders to adjust cutting depth and raise the disc for transport
DIAL-A-DEPTH depth control, allowing an even cut with positive depth control over the entire width of the harrow
Shock Absorber Bearing Risers allow the gang on the harrow to travel up and down to relieve shock when the disc blades encounter an unexpected obstacle in the ground (optional, available on all models)