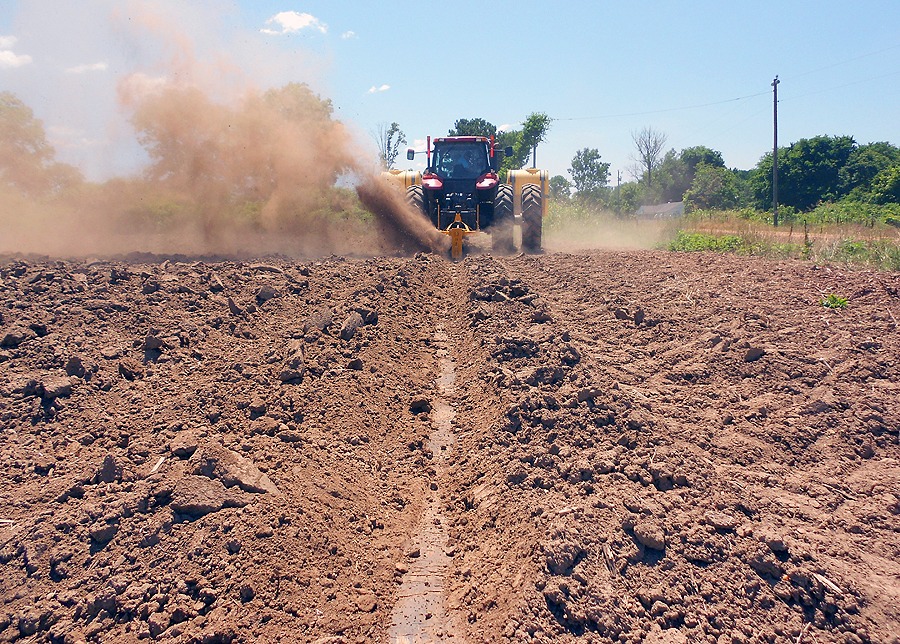 Wet weather at key points throughout the Mid-South this spring slowed planting progress, forced some farmers to switch to alternative crops, and left some crops in standing water. Especially in years like this, it pays off to have the best drainage systems possible at work in your fields. Well-planned and maintained ditches can help move water though your fields, drying them out in time for planting and draining water away from young crops before irreversible damage occurs.
1: Start with the correct ditcher.
First, always make sure the PTO of the tractor you plan to ditch with matches the ditcher you are considering. AMCO offers ditchers suitable for use with tractors from 50 to 110 PTO hp.
AMCO offers two Rotary Ditcher models, each available with two cutter-head sizes. AMCO expects to soon release news about numerous ditcher upgrades, making the best ditchers on the market even better.
Which model is right for you?
The Offset Rotary Ditcher offers outstanding performance in wet conditions. Its offset design means the cutter head sits behind the left tire—only two tracks are left in the field rather than three as with the Vertical (Standard) Rotary Ditcher, so water is less likely to get dammed up in fields. The Offset is also better for cleaning out ditches; no need to straddle a ditch when you can just drop a tire in it and go. See the Offset Rotary Ditcher in action.
The Vertical (Standard) Rotary Ditcher is a more affordable option, high-performing in dry conditions and still a solid choice for creating ditches in wet conditions. The Vertical (Standard) Rotary Ditcher weighs 120 pounds less than the Offset model and will dig a deeper ditch than the Offset.

Which cutter head do you need?
The size cutter head determines how wide and deep your ditches are. For wide, shallow ditches that will give less of a jar when being driven over, the 24″ to 26″ head is best. If you want a deeper, narrower ditch, the 18″ to 20″ is a match.
2: Operate your ditcher properly.
Make one pass in each direction.
All ditcher models throw soil and debris from the left-hand side. Since throwing soil on both sides of the drainage ditch, terrace channel, or waterway is preferred and more efficient, whenever possible, make the first pass in the center of the drainage ditch or waterway. Then make the return pass in the opposite direction, running the right wheel of the tractor in the drainage ditch made during the first pass.
Control your cutting depth and speed.
Operate the machine's cutter head five to six inches deep and travel about 2½ miles per hour. Running five to six inches deep per pass allows a natural slope to the center of the area you are working. This same process is used when cleaning a terrace channel.
How do you build a deeper ditch?
For a deeper drainage ditch, start in the center and work outward. As the drainage ditch deepens, it may be difficult to throw soil out due to the steepness of the drainage bank. Should this happen, make an additional pass on the left side of the drainage ditch.
---
Keep in mind, when cleaning small roadside ditches, soil is thrown out the left side of the machine and may be distributed over a 50-foot area; rocks and other debris may go farther.
---
3: Think beyond drainage.
You have ditches for one reason: to get water out of your fields. But what if you could also use them as soldiers in your fight to minimize pesticide runoff and more importantly, nutrient loss? An added bonus? No lost cropland.
It's very common to control vegetation growth in ditches by trimming or dredging, but in a series of studies done over ten years, Agricultural Research Service Ecologist Matt Moore has proven that ditches where vegetation is allowed to flourish are very effective at keeping pollutants from reaching nearby surface waters.[i]
In one study, samples were taken from two Mississippi drainage ditches adjacent to experimental no-till cotton fields. Moore and his research partner sampled runoff monthly and also took samples of runoff generated by storms. They found that during the growing season, vegetated ditches reduced runoff concentrations of dissolved inorganic phosphorus by 61 percent. Average concentrations decreased in vegetated ditched by 47 percent even when fields were bare. In the same fields, the vegetated ditch was responsible for reducing runoff levels of inorganic nitrogen by 57 percent over two years.[ii]
Moore's research contributed to the decision by NRCS managers in Mississippi to include vegetated agricultural drainage ditches in the state's Environmental Quality Incentives Program (EQIP). Further tests conducted in California by Moore at the request of the EPA were also successful in limiting pesticide runoff in tomato and alfalfa fields, and the state has since incorporated incentives for California farmers to install vegetated ditches in its EQIP.
For a ditch that is capable of giving you a two-for-one, consider utilizing vegetated ditches. They're one of the most inexpensive ways to manage water quality—an issue all growers will be more responsible for as time goes on if the current focus on it continues. Moore is continuing his research into how to manage the vegetation so farmers can set some of their concerns about switching to vegetated ditches aside.
[i] Perry, Ann. Southeast Farm Press, Vegetated drainage ditches can help clean up runoff water. Jan. 11, 2013. Accessed June 16, 2015.
[ii] Ibid.