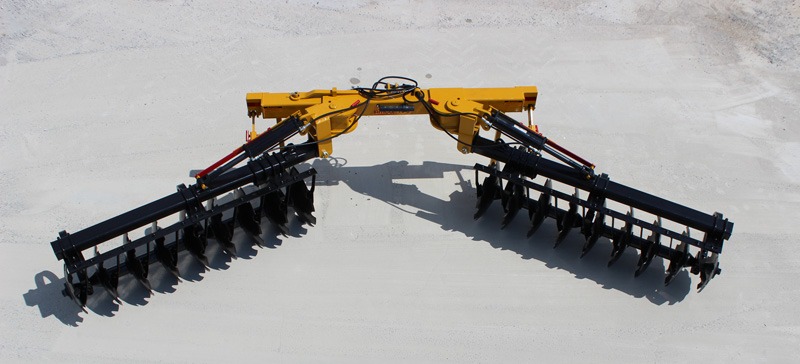 For growers who live in regions with a lot of precipitation, terracing is critical for preventing erosion and conserving water and soil. In fact, it's such an important practice that AMCO designed a plow specifically for terracing—the only one of its kind on the market.
But what is it that makes this unique plow stand out? Why is it a better investment than traditional terracing equipment, like bulldozers and scrapers?
Here's a list of the top four benefits of using the AMCO Terracing Plow:
Speed. The Terracing Plow is capable of building 1,000 feet of terraces or more per hour, which is significantly faster than using a bulldozer or other types of heavy construction equipment.
Integration. Though the Terracing Plow design is unique to AMCO, it's easy to integrate and operate with existing equipment. This saves both time and money you might otherwise invest in hiring workers to bring in bulldozers, scrapers, and other big pieces of earth-moving equipment.
Versatility. The Terracing Plow can handle both narrow-base and broad-base terrace construction, building and packing the terrace with multiple trips through the field. It can also easily refurbish older terraces.
Sustainability. The Terracing Plow operates within Soil Conservation Service (SCS) specifications, which help conserve soil moisture, provide erosion control, and reduce airborne particulates.
When building a terrace, you need durable, high-quality equipment that can get the job done. Not only is the AMCO Terracing Plow the sole plow on the market specifically designed for building and refurbishing terraces—its speed, ease of use, versatility, and sustainability provide a better return on investment than traditional terracing equipment.
To learn more about the Terracing Plow, check out the list of features below or contact our team of tough tillage experts.
---
Did you know? When breaking ground on a terrace, you'll get the best results if you keep your tractor speed at or above five miles per hour. Faster speeds reduce construction time by boosting upward and inward movement of soil on the terrace. For more tips, read our step-by-step guide to terrace construction.
---
Down-to-Earth Advantages of AMCO's Terracing Plow:
Extra-heavy-duty 7″ x 7″ x ⅜" main frame with category III 3-point hitch; is quick-hitch compatible
6″ x 4″ x ⅜" welded gang frames
10½" blade spacing
1½" square, high-carbon, cold-rolled steel axles
Disc gangs feature maintenance-free bearings with three-year warranty; bearings eliminate possibility of contamination and need for re-lubrication
Gang angles adjustable with pins from 21° to 29°
Two 4″ x 16″ independent 3,000 PSI hydraulic cylinders and four ⅜" diameter hoses to mount from hydraulic cylinders to tractor
Tilt indicator allows positive setting of gangs from driver's seat at desired tilt; hydraulically controlled from 18° down to 43° up
³⁄₁₆" x 6½" x 8″ high-carbon steel, replaceable, adjustable scraper blades mounted on bars of 2½" x 2½" square tubing; scrapers are attached to the 2½" x ½" thick arms with heavy-duty U-bolts
Standard 26″ x ¼" cutout or smooth blades with 10″ backup blades on inside and outside blades, with two 20″ x ¼" end blades with 10″ backup blades
Standard heavy-duty ductile iron bearing risers and wear guards
Welded steel spacer spools to prevent breakage upon impact with solid obstacles, such as rocks