Don't let their size fool you
31 August 2015
AMCO's small discs pack a big punch
Ask any farmer what makes a quality piece of farm equipment, and one of the words you're likely to hear is "durability." While AMCO's large disc harrows are built tough to withstand harsh field conditions, so are the smaller disc harrow models used for farming and other specialized applications.
AMCO 3-point discs are available in a wide range of cutting widths from 4' to 10'2". The LTF Lift Offset Harrow and LOF Lift Offset Harrow have the same undercarriage as the largest AMCO disc harrow models.
The durability of AMCO's 3-point discs is the reason they are so popular. The 3-point discs are being used for food plots, on the sides of fields, for leveling turn rows, clearing right-of-ways, fixing soil erosion, and cutting firebreaks. "Customers love our product because when they hook it up it is ready to work," said Luke Andries, AMCO marketing manager. "Our 3-point discs are also being used in the construction industry, which goes to show how tough they are."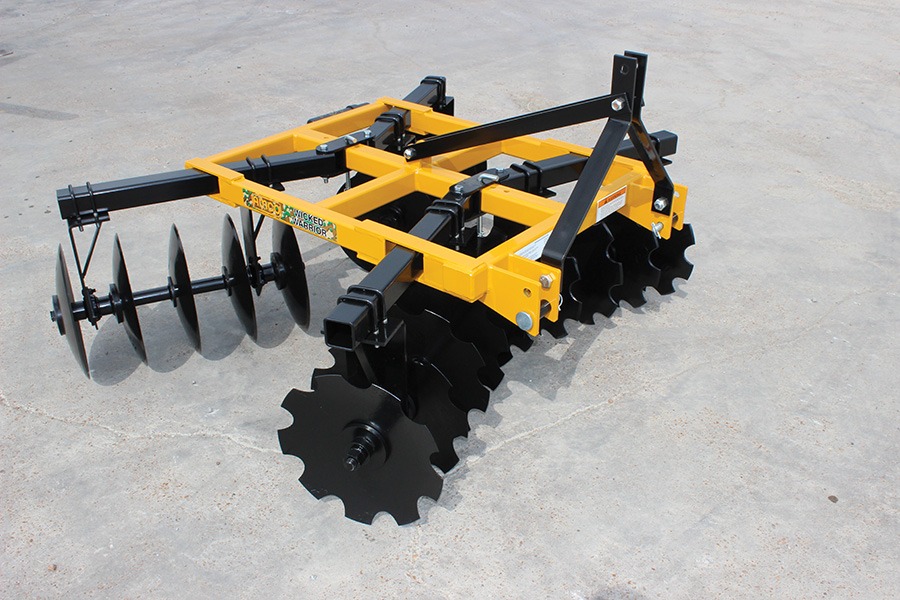 The Wicked Warrior Tandem Utility Disc (see photo above) is perfect for residential gardens, commercial landscaping, food plots, or hobbyists. This disc is built to the same rugged standards as all other AMCO disc harrows.
Available in four cutting widths: 4′, 5′, 6′, and 8′
Main frame – 2″ x 3″ square tubing with 3″ x 3″ cross braces 3⁄16″ thick
1⅛" axles with 18″ x 3⁄16″ standard cutout blades
Gang angle pin adjustable to offer aggressive tillage or soil finishing options
Category I or II quick-hitch compatible
Welded spacer spools
Two-year warranty on greaseable bearings
The LOF Lift Offset Harrow and LTF Lift Offset Harrow can be used for building and maintaining food plots, logging roads, gardens, turn rows, and firebreaks, as well as seedbed preparation, pivot turn management—or anything else you can throw at them.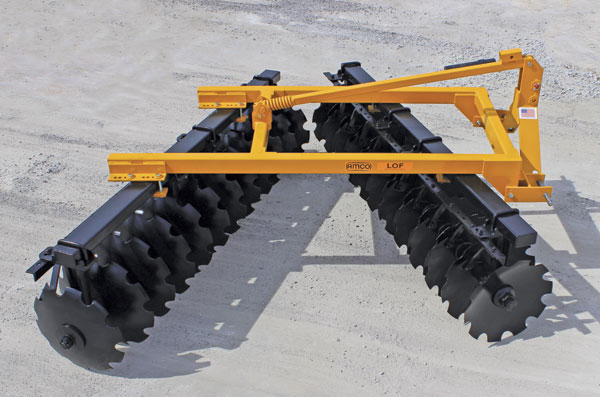 LOF (see photo above) features:
Greaseable ball-type, toggle-mounted Protect-O-Shield® Bearings with zerk and wear guards, guaranteed for two full years
1½" square, high-carbon, cold-rolled steel axles
HD high-carbon steel scraper blades on ½" x 1½" shanks mounted on 2″ x 2″ x 3⁄8″ high-carbon angle iron bars
Standard 24″ x ¼" cutout blades on 9″ spacing
Category II or III quick-hitch compatible
Optional plain blades as well as different blade sizes available
Adjustable gang angle
Welded spacer spools
Powder-coat finish for better coverage and durability under rugged conditions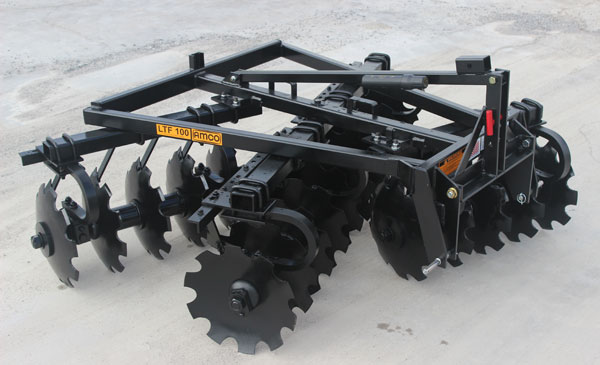 LTF (see photo above) features:
Protect-O-Shield® Bearings, guaranteed for two full years
18″ x ¼" cutout blades on small-frame harrows and 22″ x ¼" cutout blades on large frame harrows
1½" square, high-carbon, cold-rolled steel axles
High-carbon replaceable blades on heavy-duty scrapers to keep blades free from debris (scrapers are not standard on small-frame models)
Powder-coat finish
More product information can be found at our website, or click here to watch the impressive performance of the LTF.
Tips for making your AMCO discs last even longer
Keep all bolts tight. Check after first 50 hours or one week's operation. Visually inspect all bolts daily.
Grease gang bearings daily with a hand grease gun and a good grade of clean, number 2, lithium soap base grease. Always wipe fittings clean before greasing. Apply grease until old or dirty grease is purged from bearings. Avoid high-pressure greasing.
Keep gang bolts tight! Tighten after first day's operation. Do not run with loose disc blades. If gang bolts have been operated in a loose condition, re-tighten, then tighten again after 30 minutes use, again after 4 to 5 hours, and again after 8 to 10 hours.
Inspect for damaged or misaligned parts if gangs do not turn smoothly by hand. Bearings will fail prematurely if operated with misaligned or damaged gang parts. If a gang is operated for one or more hours following a bearing failure, replace all bearings on the gang.
Do not operate the disc with foreign objects entangled in the gangs.
Avoid sharp turns while disc is in the ground.
Smaller equipment takes center stage as grain prices stay low
05 August 2015
Farmers are no strangers to volatility in the markets, and you'd be hard-pressed to find anyone in the agriculture industry who didn't see the downturn in grain prices coming after years of record highs. Financial experts are recommending farmers make smart plans to operate on low margins for the next several seasons, as these high/low cycles in grain prices tend to last for five to ten years.
Investing in equipment—and maybe adding a few bells and whistles that weren't really needed—is something many farmers did when prices were high. Now that prices are down, the budget for new equipment has shrunk and farmers are looking to get plenty of bang for their buck when a new tool is needed.
A compact disc harrow is one piece of tillage equipment that farmers may be able to downsize to without sacrificing performance and results. Here are four reasons a compact disc harrow may be the perfect choice for your next tillage tool.
Compact disc harrows may carry a price tag 30 to 50 percent less than their larger counterparts.
Typically lighter than larger models by at least a few thousand pounds, they can be pulled by smaller tractors, which use less fuel.
Well-designed compact disc harrows offer a weight per blade close to that of larger models, so they offer similar soil penetration.
These smaller models, especially those that fold, are easier to transport down the road and get in and out of fields.
Conspicuously absent from many manufacturers' product lineups, the compact folding disc harrow model  offered by AMCO Manufacturing, Inc., packs just as much punch as the company's larger disc harrows. AMCO also offers a non-folding option.
AMCO's F15B Double Offset Tandem Disc Harrow with folding flexwings (also called the F15B Workhorse) is a folding disc harrow offered in cutting widths from 16'6″ to 24'0″. It folds to a very manageable transport width of 12'6″. Offering 122 to 140 pounds per blade, only 5 to 7 pounds less than the company's larger models, the F15B offers excellent soil penetration.
The F17 Double Offset Tandem is AMCO's non-folding compact disc harrow option. Available in cutting widths from 9'3″ to 16'6″, the F17 has a pounds-per-blade weight of 106 to 120.
As farmers examine every aspect of their operation looking for ways to save without sacrificing performance, smaller equipment like compact disc harrows rise to the challenge. Don't overlook these more affordable options as you budget for the coming lean years.
To build a better drainage ditch, focus on three things
30 June 2015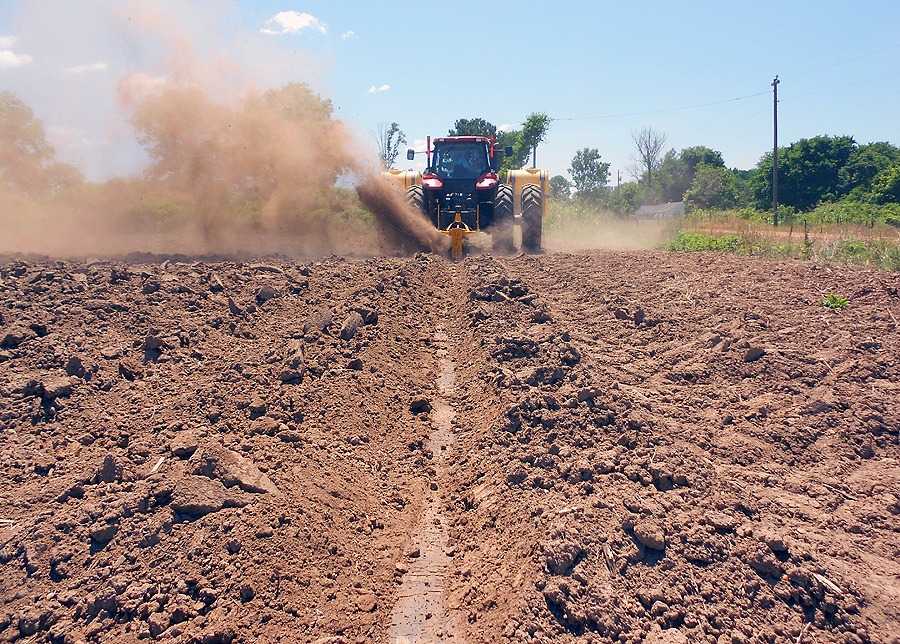 Wet weather at key points throughout the Mid-South this spring slowed planting progress, forced some farmers to switch to alternative crops, and left some crops in standing water. Especially in years like this, it pays off to have the best drainage systems possible at work in your fields. Well-planned and maintained ditches can help move water though your fields, drying them out in time for planting and draining water away from young crops before irreversible damage occurs.
1: Start with the correct ditcher.
First, always make sure the PTO of the tractor you plan to ditch with matches the ditcher you are considering. AMCO offers ditchers suitable for use with tractors from 50 to 110 PTO hp.
AMCO offers two Rotary Ditcher models, each available with two cutter-head sizes. AMCO expects to soon release news about numerous ditcher upgrades, making the best ditchers on the market even better.
Which model is right for you?
The Offset Rotary Ditcher offers outstanding performance in wet conditions. Its offset design means the cutter head sits behind the left tire—only two tracks are left in the field rather than three as with the Vertical (Standard) Rotary Ditcher, so water is less likely to get dammed up in fields. The Offset is also better for cleaning out ditches; no need to straddle a ditch when you can just drop a tire in it and go. See the Offset Rotary Ditcher in action.
The Vertical (Standard) Rotary Ditcher is a more affordable option, high-performing in dry conditions and still a solid choice for creating ditches in wet conditions. The Vertical (Standard) Rotary Ditcher weighs 120 pounds less than the Offset model and will dig a deeper ditch than the Offset.

Which cutter head do you need?
The size cutter head determines how wide and deep your ditches are. For wide, shallow ditches that will give less of a jar when being driven over, the 24″ to 26″ head is best. If you want a deeper, narrower ditch, the 18″ to 20″ is a match.
2: Operate your ditcher properly.
Make one pass in each direction.
All ditcher models throw soil and debris from the left-hand side. Since throwing soil on both sides of the drainage ditch, terrace channel, or waterway is preferred and more efficient, whenever possible, make the first pass in the center of the drainage ditch or waterway. Then make the return pass in the opposite direction, running the right wheel of the tractor in the drainage ditch made during the first pass.
Control your cutting depth and speed.
Operate the machine's cutter head five to six inches deep and travel about 2½ miles per hour. Running five to six inches deep per pass allows a natural slope to the center of the area you are working. This same process is used when cleaning a terrace channel.
How do you build a deeper ditch?
For a deeper drainage ditch, start in the center and work outward. As the drainage ditch deepens, it may be difficult to throw soil out due to the steepness of the drainage bank. Should this happen, make an additional pass on the left side of the drainage ditch.
---
Keep in mind, when cleaning small roadside ditches, soil is thrown out the left side of the machine and may be distributed over a 50-foot area; rocks and other debris may go farther.
---
3: Think beyond drainage.
You have ditches for one reason: to get water out of your fields. But what if you could also use them as soldiers in your fight to minimize pesticide runoff and more importantly, nutrient loss? An added bonus? No lost cropland.
It's very common to control vegetation growth in ditches by trimming or dredging, but in a series of studies done over ten years, Agricultural Research Service Ecologist Matt Moore has proven that ditches where vegetation is allowed to flourish are very effective at keeping pollutants from reaching nearby surface waters.[i]
In one study, samples were taken from two Mississippi drainage ditches adjacent to experimental no-till cotton fields. Moore and his research partner sampled runoff monthly and also took samples of runoff generated by storms. They found that during the growing season, vegetated ditches reduced runoff concentrations of dissolved inorganic phosphorus by 61 percent. Average concentrations decreased in vegetated ditched by 47 percent even when fields were bare. In the same fields, the vegetated ditch was responsible for reducing runoff levels of inorganic nitrogen by 57 percent over two years.[ii]
Moore's research contributed to the decision by NRCS managers in Mississippi to include vegetated agricultural drainage ditches in the state's Environmental Quality Incentives Program (EQIP). Further tests conducted in California by Moore at the request of the EPA were also successful in limiting pesticide runoff in tomato and alfalfa fields, and the state has since incorporated incentives for California farmers to install vegetated ditches in its EQIP.
For a ditch that is capable of giving you a two-for-one, consider utilizing vegetated ditches. They're one of the most inexpensive ways to manage water quality—an issue all growers will be more responsible for as time goes on if the current focus on it continues. Moore is continuing his research into how to manage the vegetation so farmers can set some of their concerns about switching to vegetated ditches aside.
[i] Perry, Ann. Southeast Farm Press, Vegetated drainage ditches can help clean up runoff water. Jan. 11, 2013. Accessed June 16, 2015.
[ii] Ibid.
Keep equipment looking new twice as long with powder coating
28 May 2015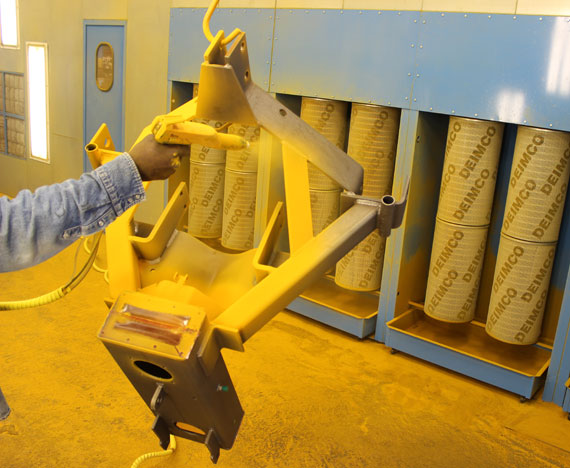 It's no secret that farm equipment is exposed to some rugged conditions: repeated heavy-duty use, impacts, moisture, chemicals, ultraviolet light, and extreme weather conditions can all take their toll on equipment. Because of this, it's crucial for farmers to invest in equipment that will last.
Powder coating is a finishing method that will ensure just that. The benefits of the powder-coat finish method used by AMCO include:
More than twice as durable as a wet-paint finish and better coverage
More scratch resistant—if the tool gets dented or dinged, the coating will flex a little rather than beginning to flake off
Resistant to fading
Reduced environmental footprint—many liquid paints and finishes release volatile organic compounds (VOCs) into the atmosphere, but powder coating contains few to no VOCs, allowing AMCO to more easily comply with increasingly stringent EPA air pollution regulations
Lowers waste, because unused or oversprayed powder that doesn't adhere to the equipment can be retrieved and reused
How it works
The finish is a mix of curatives, pigments, leveling agents, flow modifiers, and other additives that have been ground down to powder. During the application process, an electric charge is applied to the powder particles, which are then shot out of a spray gun onto the metal equipment part—the electric charge ensures the particles stick to the metal. The parts are then put in an oven to cure. Once the equipment leaves the oven and cools, it is completely cured. As a result, AMCO expects to reduce its lead times—which are already industry leading—by 10 percent.
Commitment to modern manufacturing
For the implementation of the new process in November, AMCO's 85,000 square-foot manufacturing space was revamped to include a 14x12x36-foot batch powder-coating booth. Paint technicians are armed with the latest application guns from GEMA, the Optiselect GMO3.
The upgrade to the painting system is just the latest step in AMCO's plan to revitalize its manufacturing setup. Earlier in 2014, 800 new feet of rail was installed in the assembly area to improve flow throughout the plant and make it easier for assemblers to move parts through the lines.
AMCO is focused on modernizing its processes and equipment to continually build on the value it can offer customers. In addition to powder coating, AMCO has introduced improvements to the pour product line to make it stronger and more modern. More improvements to many of AMCO's leading models will be introduced in the coming months.
Wheel Offset Harrow checklist: make sure you're field-ready
22 April 2015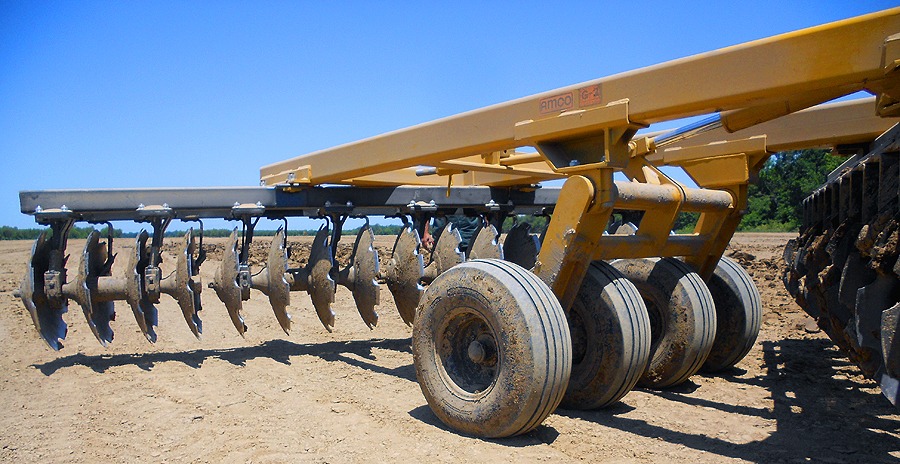 AMCO's G2 Wheel Offset Harrow is a dependable and rugged tool, but it needs proper care and preparation to live up to its maximum potential. Here are the basics: before using a new harrow or one that has been stored, check to make certain that all nuts and bolts are tight, cotter pins are spread, and the harrow has been lubricated (see page 19 of our G2 manual). Here are a few more things to check before you head out in the field:
TRACTOR DRAWBAR – Set the tractor drawbar so it is free to swing when discing. This will prevent side draft, making operation of the harrow easier. The tractor drawbar will pull somewhat to the left side during operation. This is normal with an offset harrow.
HARROW HITCH – The harrow pull tongue can be offset to the right or left by using the set of holes in the cross tongue plates to obtain the desired offset.
SPRING-LOADED STABILIZER – The spring-loaded stabilizers may be adjusted to level the harrow front to rear. In extremely hard ground, it may be necessary to shorten the stabilizers to force the front, or penetrating gang, into the ground. In normal conditions, the stabilizers should be adjusted so that the disc harrow is level, front to rear, while discing.
Observe the harrow while it is working to make sure the furrow is being filled and the ground left level.
DISC GANG ANGLE – The gang angle you choose to set your harrow at will depend on soil conditions and the job to be done. When conditions are near normal, a setting somewhere between extremely narrow and extremely shallow is advisable for best operation. Increasing the gang angle will increase the penetration, pulverizing action, and horsepower requirements, while decreasing the gang angle will do the opposite. Use the gang angle set holes on the side of the main frame to select desired angles. Always change the angle one hole at a time when making an adjustment.
SCRAPER ADJUSTMENT – Adjust the scrapers to run approximately 1/8″ from the disc blades by using the slotted holes in the scraper bars.
After you've finished your adjustments, you may need to transport the disc harrow to the field. Always lock it in transport position. Do not transport the disc harrow over 20 miles per hour on a smooth surface road, and reduce speed even further when traveling over rough ground. When transporting machinery over public roads, comply with your local and state regulations regarding length, width, and lighting. Your AMCO dealer has accessory lights and devices available to warn operators of other vehicles. The use of proper warning devices can help save lives!
---
Did you know?
The G2 Wheel Offset Harrow ranges in cutting width from 10′4″ to 20′4″ and weighs from 10,179 to 16,341 pounds. It also features:
32″ x ⅜″ cutout blades with back-up blades on 12½″ spacing; it is also available with impressive 36″ x ½″ thick cutout blades
2¼″ gang axles
2¼″ bore, greaseable, triple-lip sealed, toggle-mounted, ball-type bearings with AMCO's exclusive Protect-O-Shield® that features a two-year guarantee
Read more about the G2 Wheel Offset Harrow or watch the harrow in action.