How to change the lower cutter head bearing on AMCO's Ditcher in under an hour—without removing the chain
15 March 2016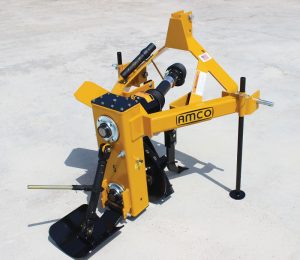 Many growers think changing out the lower cutter head bearing on AMCO's drainage Ditchers is a huge hassle. But if you have an hour of time and some basic tools, you can do it yourself—without removing the drive chain and sprocket.
Below is an overview of how to change the lower cutter head bearing on AMCO's Vertical and Offset Rotary Ditchers (download printable instructions here).
Tools needed:
Crescent wrench – 1 each
15/16″, 9/16″, ¾″, and 11/8″ sockets – 1 each
Snap ring pliers – 1 each
¾″ and 15/16″ wrench – 1 each
Hammer – 1 each
Shop rags – 1 each
Center punch – 1 each
7/32″, 5/16″, and ¼″ socket-style Allen wrench – 1 each
Flat-head screwdriver– 1 each
Parts needed:
Bearing (PT#11381) – 2
Snap ring (PT#11988) – 1
O-ring (PT#11979) – 2
O-ring (PT#11329) – 2
Gasket (PT#11359) – 1
Changing the bearing

Before each step, make sure your work area is safe and Ditcher is secure, to avoid injury. Always wear your personal protective equipment.
1. Remove the driveline.
2. Loosen the jam nut of the idler tension screw using a ¾″ box-end wrench. Remove the tension screw.
3. Remove all cutter head bolts with a 11/8″ socket. Move the head out of the way.
4. Remove the jam nuts on the front and rear collar with a 7/32″ socket-style Allen wrench.
5. Remove the drain plug and drain all fluids with a 5/16″ socket-style Allen wrench. Once the oil is drained, remove all bolts, and the plate should fall off.
6. Remove the bottom cover. Remove the front and rear flange bolts with a ¾″ socket. Also remove the o-rings and remove the back skid for easier access.

7. Safely place the Ditcher on its back for easy access to the bottom sprocket. Remove the two set screws holding the bottom sprocket in place. This will allow the sprocket to slide freely on shaft. Stand the ditcher upright.

8. Use a punch and hammer to hit the hole on the collar—this will free up the collar.
9. Ensure the set screw is set flat to allow bearing to slide over. Take a file or sandpaper to that spot before you slide off the bearing. It should be smooth to the touch.
10. Use the punch to hit directly on the shaft, until the shaft is driven through the rear bearing and collar, and the rear bearing falls off. Pull out the shaft from the front.
11. Slide the front bearing off. Remove snap ring that holds the bearing in place. The collar and bearing interlock together, and there is a tool mark where the collar locked the bearing into place. Hit the punch in the opposite direction in of the tool mark.
12. Once it is loose, secure the locking collar in a vise. Use hammer to tap collar down and off the shaft.
13. On the shaft, there are two small o-rings that need to be replaced—remove o-rings. Make sure you are in a contaminant-free zone so no dirt/grit gets on shaft when you start replacing new parts.
14. Place new flange on shaft. Place new o-ring on shaft.
15. Slide the new bearing onto the shaft with the grooved side of the bearing face down. You may have to tap down with a small hammer until it is flush with the side of the collar. Be careful not to damage the bearing.
16. Use the hammer to tap the punch in the tool mark and lock the bearing in place.
17. Replace the set screw in collar with a 7/32″ Allen wrench.
18. With the bearing, flange, and lock collar in place, slide the snap ring back down with the large snap ring pliers. Be careful not to scar the shaft. You might have to tap it with a small hammer to get it down into the groove above the bearing.
19. Slide the o-ring over the shaft (PT#11329).
20. Position the keyway on the sprocket (inside the Ditcher) to face straight up, so you don't have to guess which direction the keyway on the shaft should face. Slide the shaft back into the ditcher.
21. Now you're ready to put the seal in place. Slide the o-ring over the bearing, then take the flange and make sure it is a good fit over the o-ring. Put the nuts back on—hand tighten, so there is still some play in the back while you are putting the new rear bearing on.
22. Move to the back of the Ditcher. Scrape off raised surfaces left over from the old gasket, and wipe down to remove contaminants. This will create a good seal for the new gasket.
23. Place the new o-ring over the shaft and slide it around in the screw. Slide the new gasket over the bolts in the direction the machine punched the bolt holes.
24. Place the collar flange over the bolts. Slide the bearing and collar over the shaft with the cutout grooves towards the back. Use your other hand on the front to steady the shaft.
25. Take the other new large o-ring and place it all the way around the Ditcher bearing. Slide on the flange and hand-tighten the nuts.
26. Tighten the front flange bolts, then tighten the back with a ¾″ socket.
27. Place the locking collar on the shaft, twist to lock it in, then hit down on the keyhole with the punch to tighten the lock. Tighten the set screw with a 7/32″ Allen wrench.
28. To set the sprocket, lay the ditcher on its back again. The sprocket should be completely to the back of the Ditcher. Rotate the shaft until you find your keyway, and make sure the keyway is pushed down not quite level to the sprocket.
29. The keyway takes two set screws (to ensure main locking set screw does not back out), and one single set screw on the side of the shaft. Replace the set screws and tighten with a ¼″ Allen wrench.
30. Wipe down the bottom of the Ditcher to remove contaminants. Bolt on the new gasket. Hand tighten first, then tighten completely.

31. Before raising the Ditcher, reattach the cutter head. Hand tighten the bolts, stand the Ditcher upright, then tighten the bolts completely.

32. Reattach the rear skid plate.
33. Reinstall the idler screw. You'll feel it starting to lift the idler sprocket back into place. Tighten with a crescent wrench until it is snug, but not too tight. Replace the jam nut.
34. Replace the oil.
Your Ditcher is ready for use!
Cutout or smooth blades?
19 November 2015
Choosing the right blade style for your disc harrow can be tricky. 
When you're purchasing a new disc harrow, you'll need to decide what style of blades will be the best fit for your operation: cutout (notched) blades or smooth (solid) blades. Which you choose comes down to what soil type you'll be operating in and the amount of vegetation or residue you'll be cutting through.
Sandy, loose, typically dry soils are inherently easier to cut through. In these soil types and conditions, smooth blades are a logical fit. They'll slice through the soil like a knife with a continuous plowing action, leaving an even, level soil surface. If Mother Nature has been cooperating, the field may not require another pass with a bedding hipper or roller to smooth it out before planting.
Did you know? Because they have more surface area, smooth blades wear better than cutout blades. They are also heavier, lending more cutting power to the unit as a whole.
Heavy, wet, "gumbo" soils are likely to require cutout blades to work the soil adequately. A cutout blade will work through the heavier soils with less gumming up because it keeps rotating, leaving a more irregular surface with larger clods. A second pass with a seedbed preparation tool will be necessary to prepare the soil for planting.
Cutout blades also power through heavier crop residue more easily than smooth blades, and are a good choice if you're working ground for the first time and will be encountering tree roots and other tough vegetation. A cutout blade will help cut and toss the root systems for better residue breakdown. Discs for construction operations almost exclusively feature cutout blades because of the high-residue situations and variety of conditions they are expected to perform in.    
To get the best of both worlds, consider going with a disc harrow with the best of both worlds: cutout blades on the front to work through tougher residue or wet soil and smooth blades on the back for a smoother finish. This setup works very well for pasture re-seeding; after cattle have compressed the dirt, cutout blades are needed to effectively break the surface, but smooth blades on the back finish the soil just enough for ryegrass seeding—no second pass to further smooth the soil required in most conditions.
Did you know? AMCO offers you the option of ordering your disc from the factory with cutout blades on the front and smooth blades on the back.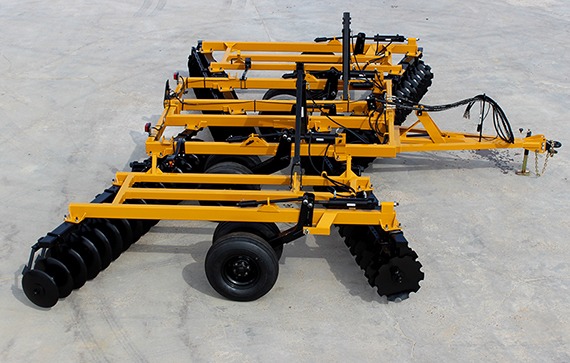 AMCO's F15 Double Offset Tandem Disc Harrows are available with a combination of cutout blades in the front and smooth blades in the back, or choose a complete set of either blade style.
If you still have questions about which blade style is right for your operation and needs, the AMCO tough tillage team is here to help. Find your closest AMCO dealer using our dealer locator, or contact AMCO today at 800-748-9022.
Want to raise your crop yields? Raise up your crops.
22 September 2015
Rain—it can be a blessing or a curse. When those life-giving showers become excessive, many farmers look for solutions to keep their plants from drowning. Enter raised soil beds. Constructed in the fall after harvest or the spring before planting, raised beds keep plants up out of water, leading to better growth and yields. In a 2007 study at Mississippi State University, researchers found a 17.7 bushel advantage to using raised beds vs. flat ground.1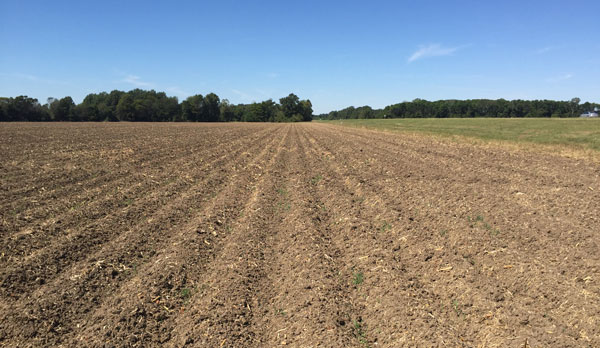 Other benefits of raised beds
The raised beds created by bedding hippers (known in some parts of the country as disc bedders) offer farmers a variety of benefits. One huge advantage is improved irrigation: the beds allow water to travel between the rows to and all the way across the fields. Many farmers choose to build beds in the fall, especially those with heavier soil like mixed clay, so they are ready to go for spring planting. Then in the spring, they knock off the very top of the ridge with the hipper and plant into it. Others with softer soil choose to create beds in the spring so they don't degrade over the winter. Another reason to build beds in the spring would be a fall time crunch due to delayed harvest. Raised beds also offer:
Faster soil drying—in wet years, you can plant sooner, leading to faster crop emergence
Moisture retention—in a dry spring, farmers can drag off more of the tops to get to the moisture for planting
Crop elevation—beds keep young plants up out of the water so they don't drown
Weed control—fall bed-building helps eliminate ryegrass, and many other weeds don't like growing on raised beds
How to construct raised beds
Once you're ready to start constructing your beds, operate the bedding hipper at 5 to 8 mph. Do not run any deeper than necessary. High speeds and shallow depths throw up uniforms beds. Low speeds and deep depth settings push the soil and may cause bulldozing in front of the gangs. Vary the gang angle to suit your ground conditions. Staggered gangs work well in most soil conditions and layer soil into smooth, somewhat rounded beds. Opposed gangs make higher, pointed beds and generally operate well at high speeds, but clog more easily in heavy, moist soil or trashy conditions.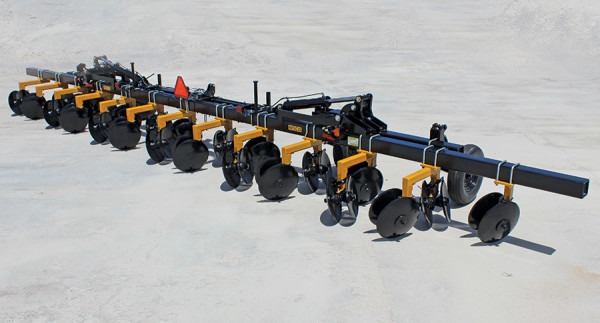 How do you construct the ideal raised beds? AMCO offers High-Clearance Bedding Hippers in 6-, 8-, 10-, 12-, and 16-row assemblies. These Bedding Hippers offer some major advantages:
Designed to work in high-residue conditions and heavy soil operations
Adjustable gang angle with three settings for different soil types and bed configurations
1½" square axles and two of our Protect-O-Shield® bearings—backed by our exclusive two-year warranty—for trouble-free seedbed preparation
Blade sizes ranging from 16″ to 24″—double blades standard, single blades optional
Heavy-duty, all-welded, high-clearance gang frames
AMCO High-Clearance Bedding Hippers are available for purchase separately or in combination with our Heavy-Duty Toolbars—Heavy-Duty Toolbar and Bedding Hipper assemblies can be custom built to fit your needs
Click here for more information and photos of AMCO's Bedding Hipper.
1. http://deltafarmpress.com/scientist-compares-soybeans-flat-ground-versus-beds
Don't let their size fool you
31 August 2015
AMCO's small discs pack a big punch
Ask any farmer what makes a quality piece of farm equipment, and one of the words you're likely to hear is "durability." While AMCO's large disc harrows are built tough to withstand harsh field conditions, so are the smaller disc harrow models used for farming and other specialized applications.
AMCO 3-point discs are available in a wide range of cutting widths from 4' to 10'2". The LTF Lift Offset Harrow and LOF Lift Offset Harrow have the same undercarriage as the largest AMCO disc harrow models.
The durability of AMCO's 3-point discs is the reason they are so popular. The 3-point discs are being used for food plots, on the sides of fields, for leveling turn rows, clearing right-of-ways, fixing soil erosion, and cutting firebreaks. "Customers love our product because when they hook it up it is ready to work," said Michael Atwood, AMCO marketing manager. "Our 3-point discs are also being used in the construction industry, which goes to show how tough they are."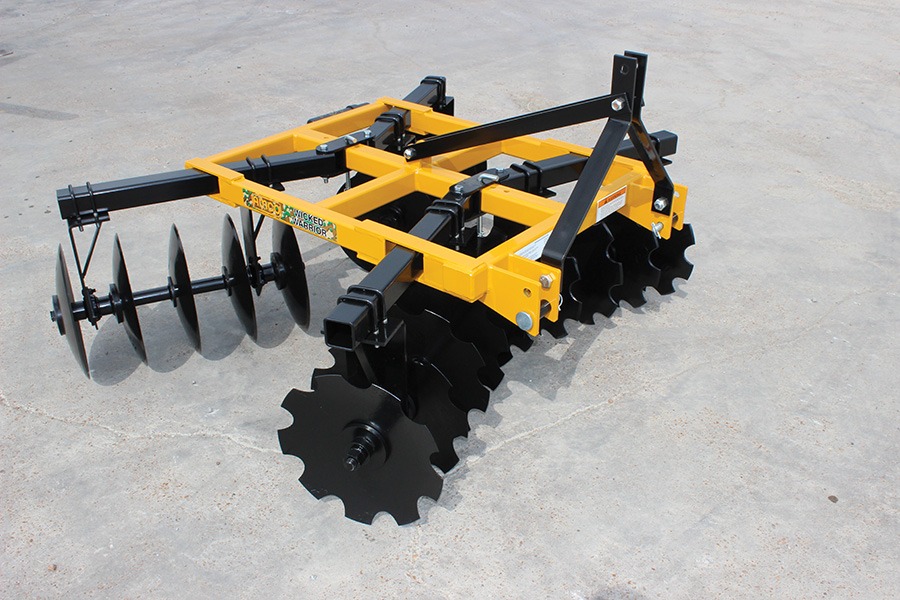 The Wicked Warrior Tandem Utility Disc (see photo above) is perfect for residential gardens, commercial landscaping, food plots, or hobbyists. This disc is built to the same rugged standards as all other AMCO disc harrows.
Available in four cutting widths: 4′, 5′, 6′, and 8′
Main frame – 2″ x 3″ square tubing with 3″ x 3″ cross braces 3⁄16″ thick
1⅛" axles with 18″ x 3⁄16″ standard cutout blades
Gang angle pin adjustable to offer aggressive tillage or soil finishing options
Category I or II quick-hitch compatible
Welded spacer spools
Two-year warranty on greaseable bearings
The LOF Lift Offset Harrow and LTF Lift Offset Harrow can be used for building and maintaining food plots, logging roads, gardens, turn rows, and firebreaks, as well as seedbed preparation, pivot turn management—or anything else you can throw at them.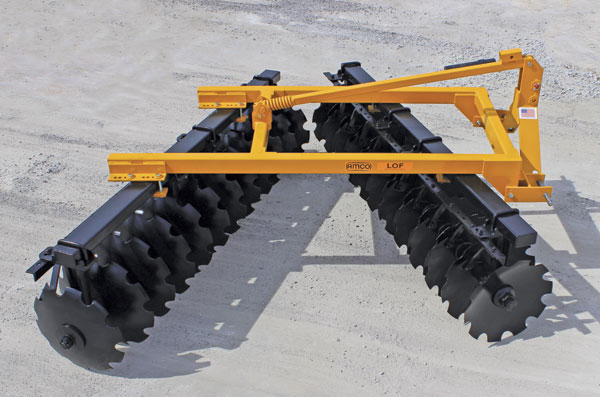 LOF (see photo above) features:
Greaseable ball-type, toggle-mounted Protect-O-Shield® Bearings with zerk and wear guards, guaranteed for two full years
1½" square, high-carbon, cold-rolled steel axles
HD high-carbon steel scraper blades on ½" x 1½" shanks mounted on 2″ x 2″ x 3⁄8″ high-carbon angle iron bars
Standard 24″ x ¼" cutout blades on 9″ spacing
Category II or III quick-hitch compatible
Optional plain blades as well as different blade sizes available
Adjustable gang angle
Welded spacer spools
Powder-coat finish for better coverage and durability under rugged conditions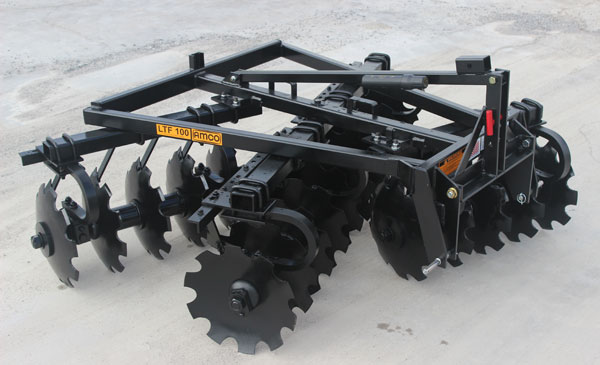 LTF (see photo above) features:
Protect-O-Shield® Bearings, guaranteed for two full years
18″ x ¼" cutout blades on small-frame harrows and 22″ x ¼" cutout blades on large frame harrows
1½" square, high-carbon, cold-rolled steel axles
High-carbon replaceable blades on heavy-duty scrapers to keep blades free from debris (scrapers are not standard on small-frame models)
Powder-coat finish
More product information can be found at our website, or click here to watch the impressive performance of the LTF.
Tips for making your AMCO discs last even longer
Keep all bolts tight. Check after first 50 hours or one week's operation. Visually inspect all bolts daily.
Grease gang bearings daily with a hand grease gun and a good grade of clean, number 2, lithium soap base grease. Always wipe fittings clean before greasing. Apply grease until old or dirty grease is purged from bearings. Avoid high-pressure greasing.
Keep gang bolts tight! Tighten after first day's operation. Do not run with loose disc blades. If gang bolts have been operated in a loose condition, re-tighten, then tighten again after 30 minutes use, again after 4 to 5 hours, and again after 8 to 10 hours.
Inspect for damaged or misaligned parts if gangs do not turn smoothly by hand. Bearings will fail prematurely if operated with misaligned or damaged gang parts. If a gang is operated for one or more hours following a bearing failure, replace all bearings on the gang.
Do not operate the disc with foreign objects entangled in the gangs.
Avoid sharp turns while disc is in the ground.
Smaller equipment takes center stage as grain prices stay low
05 August 2015
Farmers are no strangers to volatility in the markets, and you'd be hard-pressed to find anyone in the agriculture industry who didn't see the downturn in grain prices coming after years of record highs. Financial experts are recommending farmers make smart plans to operate on low margins for the next several seasons, as these high/low cycles in grain prices tend to last for five to ten years.
Investing in equipment—and maybe adding a few bells and whistles that weren't really needed—is something many farmers did when prices were high. Now that prices are down, the budget for new equipment has shrunk and farmers are looking to get plenty of bang for their buck when a new tool is needed.
A compact disc harrow is one piece of tillage equipment that farmers may be able to downsize to without sacrificing performance and results. Here are four reasons a compact disc harrow may be the perfect choice for your next tillage tool.
Compact disc harrows may carry a price tag 30 to 50 percent less than their larger counterparts.
Typically lighter than larger models by at least a few thousand pounds, they can be pulled by smaller tractors, which use less fuel.
Well-designed compact disc harrows offer a weight per blade close to that of larger models, so they offer similar soil penetration.
These smaller models, especially those that fold, are easier to transport down the road and get in and out of fields.
Conspicuously absent from many manufacturers' product lineups, the compact folding disc harrow model  offered by AMCO Manufacturing, Inc., packs just as much punch as the company's larger disc harrows. AMCO also offers a non-folding option.
AMCO's F15B Double Offset Tandem Disc Harrow with folding flexwings (also called the F15B Workhorse) is a folding disc harrow offered in cutting widths from 16'6″ to 24'0″. It folds to a very manageable transport width of 12'6″. Offering 122 to 140 pounds per blade, only 5 to 7 pounds less than the company's larger models, the F15B offers excellent soil penetration.
The F17 Double Offset Tandem is AMCO's non-folding compact disc harrow option. Available in cutting widths from 9'3″ to 16'6″, the F17 has a pounds-per-blade weight of 106 to 120.
As farmers examine every aspect of their operation looking for ways to save without sacrificing performance, smaller equipment like compact disc harrows rise to the challenge. Don't overlook these more affordable options as you budget for the coming lean years.