The toughest tillage tools just got tougher
29 May 2015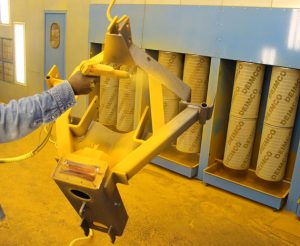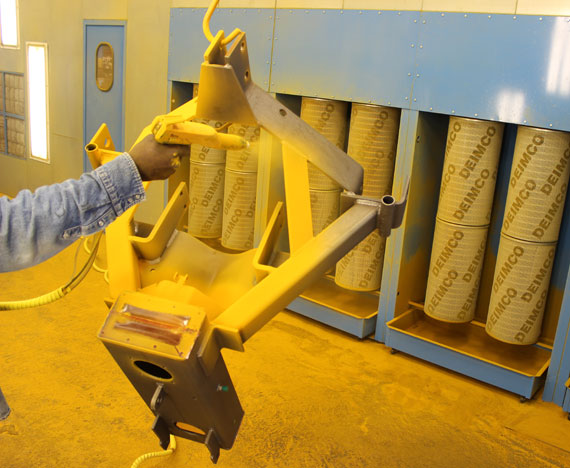 AMCO now powder coating all equipment
AMCO Manufacturing, Inc., is known for building rugged, field-proven primary tillage implements and farm equipment for the agricultural, farming, wildlife, forest and construction industries. Now AMCO powder coats its equipment, further increasing the durability of its products.
"Our powder-coated finish is more than twice as durable as a wet-paint finish and has better coverage," said AMCO Manufacturing Engineer JD McKeigney, who led the implementation of the powder-coating system. "It's more scratch resistant—if the tool gets dented or dinged, the coating will flex a little rather than beginning to flake off."
Once the equipment leaves the oven and cools, it is completely cured. As a result, AMCO expects to reduce its lead times—which are already industry leading—by 10 percent. "The finish is also very resistant to fading," added McKeigney.
AMCO's 85,000 square-foot manufacturing space was revamped to include a 14x12x36-foot batch powder-coating booth. Paint technicians are armed with the latest application guns from GEMA, the Optiselect GMO3.
The upgrade to the painting system is just the latest step in AMCO's plan to revitalize its manufacturing setup. Last year, 800 new feet of rail was installed in the assembly area to improve flow throughout the plant and make it easier for assemblers to move parts through the lines.
"At this stage in our nearly 70-year history, AMCO is very focused on modernizing our processes and equipment so that we are continually building on the value we offer to our customers," said Marketing Manager Michael Atwood. "Our customers know tough tillage tools, and we aim to exceed their expectations with new and innovative products and features."
From coupler to cutter head, AMCO makes a better Ditcher
18 December 2014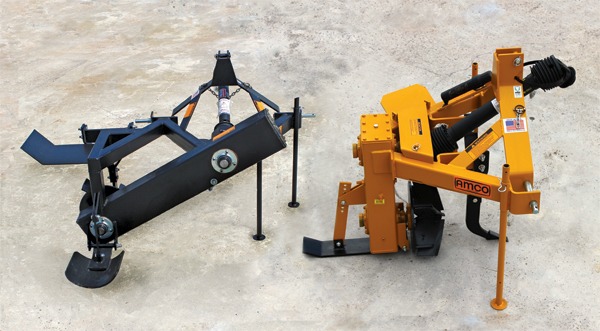 Our Rotary Ditchers are reliability tested, field proven, and perform in wet or dry conditions. Clear roadside ditches or direct water away from crops with this top-performing tool.
Both our Standard and Offset Rotary Ditchers are engineered to outperform your expectations. If you often deal with wet conditions, consider our new Offset Rotary Ditcher with its unique design that allows it to run directly behind the left rear tractor tire so the ditch is dug in the track, improving drainage even further. Watch the offset rotary ditcher in action.
We have three offset and five standard models to choose from in two cutting width options: 18″ to 20″ adjustable or 26″. 
For more photos and info on our Standard and Offset Rotary Ditcher, visit our website.
All models are shipped from the factory completely assembled and ready for work. They feature:
Five replaceable high-carbon steel cutter heads that have been heat treated and rotate at 740 RPM. Driving the cutter head is a dual, heavy-duty, endless double #80 roller chain with 1″ pitch that runs continuously in a sealed oil bath
A chain drive constructed of 6″ x 10″ x ¼" tubing welded into the rigid, one-piece, all-welded main frame. Each chain drive also has an adjustable idler sprocket with case-hardened teeth
A-frame construction with category II and III 3-point hitches; is quick-hitch compatible
A ripper and ripper point as standard equipment
Help AMCO support breast cancer patients this October
10 October 2014
This October, the toughest tillage tools on the market will help raise awareness for breast cancer and support those with the disease. In recognition of Breast Cancer Awareness Month, AMCO Manufacturing, Inc., plans to offer customers the option of ordering any of its products in pink. For the second year in a row, two percent of the sales of pink-painted equipment will be donated to the Walk Through the Zoo 5K event, to be held on October 18 in Yazoo City.
"I have two aunts who battled breast cancer, and my father also fought cancer and lost," said AMCO Marketing Manager Michael Atwood. "Breast cancer seems to touch everyone. Any farmer you talk to has a sister, cousin, mother, a good friend or someone in their life who has faced this disease."
Of the decision to paint AMCO tillage tools pink rather than the normal deep yellow, Atwood said, "We wanted to do something outside the box to bring awareness to the cause. There is still so much more we can do.
"Plus, only REAL farmers can pull pink," he added with a smile. The pink paint will still be a practical choice for farmers—its durability matches that of the company's normal coat of paint. "AMCO tools have long lives. We hope this promotion will make everyone who sees this tough, pink tillage equipment in action will stop to think about what they can do to support a loved one, or someone else's love one, fighting breast cancer."
Cancer patients in Mississippi will benefit from 100 percent of the proceeds raised from AMCO purchases. All of the donations made to Walk Through the Zoo are turned over to the Mississippi Witness Project based in Jackson, a nonprofit organization that helps primarily breast cancer patients with anything they might need, from help paying a lighting bill to transportation to and from treatments.
Melissa Stanley, who co-founded Walk Through the Zoo last year to enhance the women's programming at the Yazoo City Federal Prison where she works, said of the event, "It started out as a way to raise awareness for breast cancer and it has just been amazing how it's grown. We're a small community and AMCO has been here for a long time, so we're thrilled to have them be a part of this. When you see a pink disc in a field, you'll know it's for breast cancer!"
For more information on ordering the toughest tillage tools on the market in pink, contact AMCO at 800-748-9022 or email us. More information on AMCO's product lineup can be found at www.amcomfg.com.
​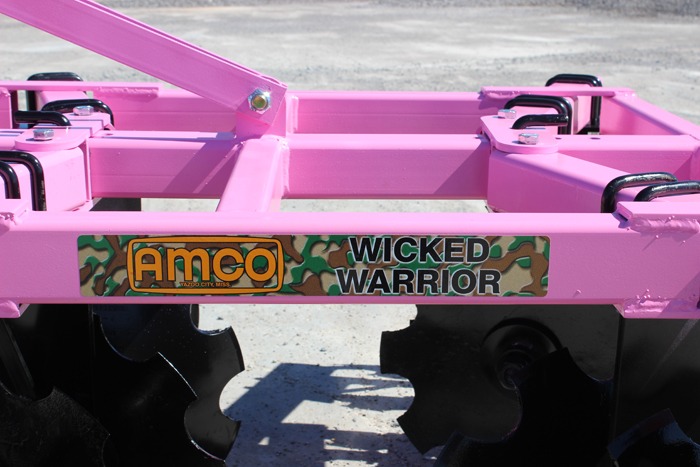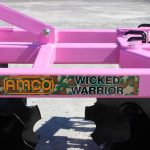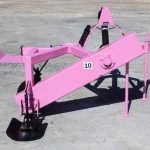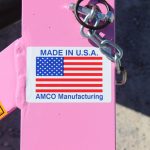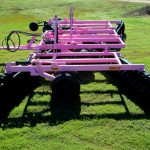 Experience better drainage with AMCO's new Offset Rotary Ditcher
02 September 2014
AMCO is widely known for offering some of the most reliable ditchers on the market. With the new Offset Rotary Ditcher from AMCO, farmers get the same dependability and tough build they've come to expect, with even better drainage for extremely wet conditions.
The AMCO Offset Rotary Ditcher gives farmers the ability to dig drainage ditches for improved water drainage in any crop or soil type. Its unique design allows the Offset Rotary Ditcher to run directly behind the left rear tractor tire so the ditch is dug in the same tire track.    
"The offset design leaves a defined water drainage ditch in the field," said Michael Atwood, AMCO marketing manager. "That means in wet conditions, water is channeled into the ditch for exceptional drainage."
Erosion control is another benefit of the new Offset Rotary Ditcher. The tire running directly ahead of the ditcher packs down loose soil, and the trench the ditcher creates through the packed soil is more firm and less prone to washing away with rainfall than if it were dug through loose soil.
In cleaning out ditches that were previously dug, the Offset Rotary Ditcher also proves its worth. "It can be tricky to straddle a ditch," explained Atwood. "With the Offset Rotary Ditcher, you can just drop the tire in the current ditch and go, and the ditcher will clean out the ditch behind the tire."
Like everything at AMCO, the Offset Rotary Ditcher is built tough to withstand the demands of today's farming environment. Its robust frame doesn't detract from the easy functionality. The chain drive is a heavy-duty, endless double #80 roller chain and runs continuously in a sealed oil bath. The optional skid plate is available in standard or concave options; the skid plate mount is located on the rear of the ditcher to keep debris and mud from building up around the bearing. The ditcher comes with a standard buster shank and is available in 540 and 1,000 PTO.  
Since 1947, AMCO Manufacturing, Inc., has produced a wide range of primary tillage implements and farm equipment engineered and designed for the agricultural, farming, wildlife, forest and construction industry. AMCO products are the perfect fit for today's production agriculture.
Flexwing Finishing Disc added to AMCO product lineup
12 June 2014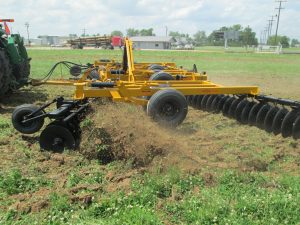 AMCO is proud to announce the availability of the new C15 Double Offset Flexwing Tandem Disc Harrow. This finishing disc features blades spaced at 7.5″ and is built from our field-tested, heavy-duty F15 disc frame that has proven itself year after year as a tough tillage tool.  
"Today's production agriculture industry operates at faster grounds speeds and with more horsepower. Backed by our AMCO heavy-duty construction techniques and commitment to durability, the C15 keeps you out of the shop and in the field," said Marketing Manager Michael Atwood.
Perfectly suited for primary or secondary tillage, seedbed prep or incorporation of chemicals, the C15's 7.5″ blade spacing forces dirt and residue to break down into finer pieces. "To alleviate the tendency to clog that comes with narrow blade spacing, we've engineered a scraper for the C15 that is installed next to the bearings, where clogging is most likely," said Atwood.
Another great feature of the C15 are the flexwings, which are designed to follow the contour of your field for a smooth and even finish. The C15 has 1½" square cold-rolled, high-carbon steel alloy axles. Standard options include your choice of either 24″ smooth or cutout disc blades with steel 7.5″ spacer spools that come standard. Other blade sizes are also available. All C15s come with replaceable high-carbon steel scraper blades mounted on heavy-duty shanks.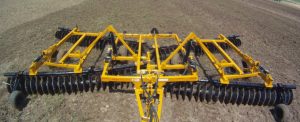 If you would like more information on the high-performing C15 Double Offset Flexwing Tandem Disc Harrow call us at 800-748-9022. AMCO offers programs for dealers throughout the year—ask about our current incentives.
THE C15 Double Offset Flexwing Tandem Disc Harrow FEATURES:
7.5″ blade spacing
Protect-O-Shield® triple-sealed greaseable bearings with industry-leading two-year warranty 
Optional blade sizes
Standard bearing risers
90″ tongue for dual wheels complete with tongue jack
Safety lights
Hydraulic hoses complete to tractor
Depth gauge wheels
Contour-following Flexwings
Hydraulic tongue optional