A quick guide to quality terraces
30 March 2015

Before you take your terracing plow out for a spin this spring, you might want a brief refresher on proper terrace construction. The perfect narrow-base terrace is easy to achieve by following these steps
STEP 1. Begin to form the terrace by making one or two passes along the terrace centerline at 4 to 6 inches deep with both gangs set at 10 to 11 inches on the indicators.
Bonus tip: For best results, maintain tractor speed at or above 5 miles per hour. High speeds improve movement of soil upward and inward on the terrace, reducing construction time. With the AMCO Manufacturing Terracing Plow, you can build 1,000 feet of terraces or more per hour, working within Soil Conservation Service specifications.
STEP 2. Move soil into the base of the terrace from the area on each side by using only one gang. Lower the right-hand gang and operate the left-hand rear tractor tire just to the right of the terrace centerline. The gang should extend 4 to 6 feet beyond the furrow created by the outside disc blade on the previous pass. The tilt indicator should be set at about 11 or 12 inches.
Repeat 2 to 3 times on both sides of the terrace, moving soil inward into the base of the terrace. When soil has been worked inward to the point that the tractor is almost centered on the terrace, you're ready for step 3.
Bonus tip: Occasionally use the left-hand gang in the opposite manner as just described so one gang doesn't take more wear than the other.
STEP 3. With both gangs set at about 12 or 13 inches on the tilt indicators, further build and shape the terrace. Make several passes, increasing gang tilt about 1 to 1½ inches at each pass. Continue to build up the terrace until a full-tilt pass is completed. At this point, another pass or two with tilt set at 15 inches will generally help to smooth the side slopes and "crown off" the terrace.
Bonus tip: Tilt the gangs so that all blades are moving soil. If only one end of the gangs is cutting, increase or decrease gang tilt so that cutting is even all along the gang.
STEP 4. After the terrace is complete, in order to prepare the field for cropping and to ensure proper erosion control, it will likely be important to perform additional minor operations with the terracing plow or other equipment. For example, you may need to smooth and broaden the terrace channel and back slope furrow for cropping. This can also be done with a disc harrow or other equipment. Using the AMCO Terracing Plow or a blade, it may be necessary to tie the terrace channel into a waterway or do other finishing operations.
Did you know?
AMCO Terracing Plows can also be used for broad-base terrace construction. Reference page 28 in our Terracing Plow manual for instructions. Tips to keep your Terracing Plow properly maintained can also be found on page 30 of the manual.
Visit our Terracing Plow page for more photos and features.
---
8 tips to building the perfect levee
24 February 2015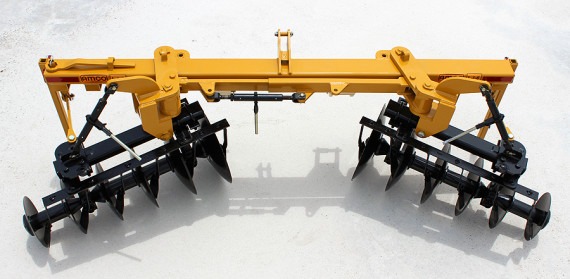 Before you know it, rice planting season will be here. When building a levee, keep these tips in mind.
Choose the right equipment. AMCO's revolutionary hydraulically controlled LF6 and LJ6 Levee Plows raise the bar for value, convenience, quality, performance, and durability and are ideal to get your field ready for rice. Designed to build a levee in fewer passes, they save you time and money. AMCO also manufactures Manual Levee Plows.

LF6 and LJ6 Hydraulic Levee Plows feature on-the-go gang tilt adjustments, completely controlled from the tractor seat, allowing the operator to reduce the number of passes required, saving time and fuel. They're also available in a manual version with turnbuckles: MLF6 and MLJ6. Both Manual and Hydraulic Levee Plows are available with 9″ or 10½" blade spacing and feature reversible gangs so they can tear down as well as build up levees. Cutting weights vary from 216 to 254 pounds per blade depending on the model.

Visit our product page for more photos and features.
Avoid plowing up large clods on the first pass by limiting the depth of the cut. The core of the levee should consist of fine soil particles to prevent water seepage.
Allow time for the soil to dry between passes unless it's unavoidable. Dry soil facilitates pulverizing large clods, which make a porous levee and a poor seedbed for rice planted on the levee.
Make the right number of passes. Under normal conditions, no more than three passes will be required to form a levee. Depending on soil conditions and the depth of water to be held, a levee may require only one pass.
Use the proper gang-tilt angle for all passes. During the first pass the two middle disc blades do most of the work of forming the levee. By limiting gang tilt and primarily using the middle blades on subsequent passes, a narrow, steeply slopped levee can be built with a shallow borrow furrow on the sides (a borrow furrow is formed when nearby soil is "borrowed" to build the levee).
Add the optional feathering blade kit available for AMCO. It helps reduce the effects of a steep borrow furrow.
Leverage the burrow furrow. It can be used as a channel to help drain the rice field.
Consider center packing. It can be effective to pack the center of the levee with one or two passes of the tractor wheels to provide an impervious core before making the final pass.
Life in the fast lane—what shortcuts can save you time?
21 November 2014
Did you know?
Winter months don't have to be wasted—there are plenty of time-saving measures you can take to be ready for spring planting. Read more about which shortcuts are beneficial and which can be dangerous or destructive below.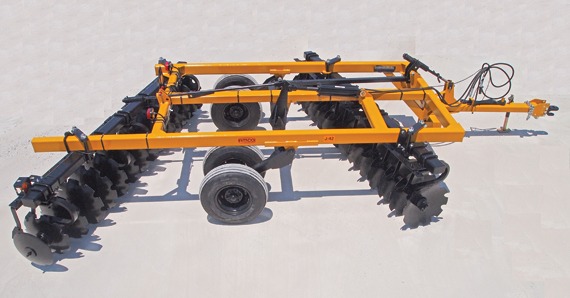 Tough residue? That's no problem with AMCO's J42 Wheel Offset Harrow.
This heavy-duty primary tillage tool cuts and sizes residue, eliminates clumps, and loosens packed soil, helping you prepare your ideal seedbed. Well-suited for a wide range of applications, this offset harrow is built with the same ruggedness and versatility that AMCO products have been known for since 1947.
AMCO tools may be built tough, but there's still one shortcut you should never take with your disc harrow. Read more below.
For more photos and information on the J42, visit our website.
The J42 is available in 50″ main frames or 86″ main frames (designated with a "B").
Features include:
Shock Absorber Gang Riser to help prevent damage from rocks and stumps; standard on the J42B
Protect-O-Shield® bearings to help eliminate damage from grease gun pressure or residue wrapping
High-carbon, cold-rolled 1½″ steel square axles
Standard unit comes with 24″ diameter x ¼″ thick smooth/plain blades with diminishing leveling blades
Optional blade diameters and thicknesses are available
Heat-treated spring steel scraper shanks, replaceable high-carbon steel scraper blades, and extra-heavy-duty scraper bars
Dual wheels for improved flotation
Heavy-duty 3,000 PSI hydraulic cylinders to adjust cutting depth and raise the disc for transport
Positive screw-type depth control for maintaining set cutting depth
Wear guards to protect bearing housings and zerk guards to protect grease fittings
Adjustable 88½″ tongue with base hitch and tongue jack
Backup blades provide added support for working blades
Outrigger frame of 16'6″ through 20'6″
Weights of 179 to 208 pounds per blade
Safety features include safety chains, slow-moving placard, and light kit
---
Do's and don'ts of farming shortcuts
Farmers are masters of finding ways to save time. But which shortcuts are beneficial, and which can be dangerous or destructive?
DO: Implement winter time-savers
After harvest, farmers finally have time to relax. But once you've taken some much-needed down-time, you can spend the off-season focusing on equipment repair and maintenance. That way, you'll make sure everything is in working order before the time-crunch in the spring.
Here are a couple steps you can take this winter to ensure fewer equipment failures and longer life for your farm implements:
Clean your equipment thoroughly.
Repair any damage your equipment sustained during the year.
Perform routine maintenance such as oil and fluid changes and air tire pressure checks.
Replace worn and damaged parts, such as rubber seals, planter chains, seed tubes, and seed conveyor belts.
Taking care of these steps now means you'll be ready to leap into action in the spring. For a complete planter tune-up checklist, read the January 2014 Leading Edge, published by Yetter Manufacturing.
DON'T: Take winter safety shortcuts
Just because you're not in the field doesn't mean you can be lax about safety. Make sure to follow all necessary safety precautions when making your winter repairs. For example, Gary Huitink, an agricultural engineer and safety expert with the University of Arkansas Cooperative Extension Service, reminds farmers of the dangers of jump-starting tractors. Failure to follow the proper steps when jump-starting led to between 50 and 100 deaths nationwide in a recent year.[i] Always make sure equipment is turned off before starting maintenance or repairs.
DO: Plan ahead to save time in spring
Winter is the perfect time to fine-tune your spring planting plan. Especially in wet springs when planting is delayed, every minute counts. Having a plan in place can help, even if you can't foresee every scenario. Delta Farm Press recommends saving time during planting by efficiently planning your labor, such as having two people to run the planter and one to do seeding, maintenance, and any other problems that might arise.[ii]
Even though it may seem like you don't have a second to spare during planting, never take shortcuts with safety. Though it takes a little longer, inspect your equipment between runs to make sure everything is still in working order. If any damage has occurred, it is worth it to make the repairs before continuing.  
DON'T: Damage equipment in the field
It can often be tempting to take shortcuts while planting or discing that will have you kicking yourself later. For example, running over large objects when planting can damage equipment—instead, inspect fields beforehand to remove objects like fallen tree limbs so you don't have to stop your equipment. Another time-saver that should be off-limits is turning equipment with the disc down—it may save a couple minutes, but is it worth the broken discs or bent frame?
Keep these tips in mind, and look forward to a safe, profitable winter and 2015 planting season.
[i] http://deltafarmpress.com/ag-engineer-says-no-shortcuts-equipment-safety
[ii] http://deltafarmpress.com/delayed-planting-makes-efficiency-labor-crucial
It's 5 o'clock somewhere: try out a cover crop cocktail
28 October 2014
Did you know? 
Cover crop "cocktails" can provide a range of benefits, from weed suppression to nitrogen. Read more about cover crop benefits below.

Create the perfect seedbed with the F15 Double Offset Flexwing Tandem Disc Harrow
AMCO's F15 Double Offset Flexwing Tandem Disc Harrow is a heavy-duty tool for primary tillage applications. It features folding wings that flex and follow the contour of the field. The double offset tandem design effortlessly smooths the soil to create the perfect, berm-free seedbed.
Read about how the F15 can help with cover crop management below.
For more photos and information on the F15, visit our website.
Features include :
Protect-O-Shield® triple-lip sealed, greaseable ball-type, toggle-mounted bearings to eliminate blown seals and damage caused by wrap
DIAL-A-DEPTH to allow an even cut with positive depth control over the entire width of the harrow
Main frames featuring boxed, all-welded steel tubing
An adjustable clevis of ductile iron that fits all tractor hitches
Scrapers have high-carbon replaceable blades on heavy-duty shanks, mounted with grade 5 bolts on high-grade angle iron bars 
Optional features include:
Heavy-duty wheels, heavy-duty scrapers, and cutout blades in place of standard blades
Upgraded scraper system ideal for wet conditions is available on F15 Heavy Duty models
---
Try out a cover crop cocktail that suits your needs
In many parts of the U.S., cover crops are becoming more and more popular. Skeptical? A 2013 Farm Journal study showed that of 1,700 farmers asked, 60% had at some time planted a cover crop. Not just in the Midwest, either, but throughout the South and Eastern U.S.[i] 
With the range of benefits cover crops can offer, it's easy to see why. Erosion control, increased soil moisture, lower fertilizer costs, pest and weed prevention, alleviating soil compaction—a specific cover crop is often chosen to provide help where a farm most needs it, such as tillage radish to relieve soil compaction.  Some farmers plant a "cocktail" of cover crops to take advantage of several of these benefits.
For example, an Arkansas farmer has used a mix of cereal rye and radishes for years. Benefits include deep tillage of soil, increased water penetration, reduced soil and wind erosion, and, most recently, helping manage two glyphosate-resistant weeds, horseweed (marestail) and Palmer amaranth (pigweed). A cover crop that is established in the field before the weeds come up helps suppress weed growth.[ii]
Farmers looking for the immediate economic benefit of cover crops should consider cover crops that can reduce the need for nitrogen application. According to the Mississippi State University Agricultural Extension, cover crop legumes like clovers and vetches accumulate nitrogen, which is then released after the cover crop is killed and decomposes.[iii] More nitrogen available to crops equals lower input costs and increased yields for the primary crop.
Like all farming, cover crops require careful management: the right combination of cover crop and cash crop must be chosen, the cover crop must be planted at the right time, and it must be terminated properly so it doesn't become a weed. The National Resources Conservation Service provides guidelines for planting and termination. If you want to learn more about what cover crops might work well with your operation, plan to attend the 2014 Southern Agricultural Cover Crops Conference on Oct. 28-29 at the Arkansas State University Convocation Center in Jonesboro, Arkansas.
AMCO also offers equipment to help properly manage cover crops. After harvesting the primary crop, farmers can mulch up the soil with equipment like AMCO's F15 Double Offset Flexwing Tandem Disc Harrow in order to let residue decompose. Cover crops can then be planted on top of the residue. In the spring, the disc is run over the cover crop residue, creating a perfect seedbed before the primary crop is planted.
[i] http://www.agweb.com/article/cover_crops_swing_into_popularity_NAA_Sara_Schafer/
[ii] http://deltafarmpress.com/management/producers-harness-cover-crops-suppress-weeds
[iii] http://msucares.com/news/print/agnews/an12/120913_cover_crop.html
AMCO offers helpful tips for terrace construction
09 August 2013
If you're planning to build terraces, the Soil Conservation Service (SCS) will survey and design them at no charge. SCS experts will help you decide whether your farming operation is best suited for narrow-base, grass back-slope, or broad-base terraces.
Once the planning for your terracing project is complete, having the right tool is essential. The AMCO Terracing Plow (model TJ3) is designed primarily for building narrow-base terraces, an economical system that can accommodate large farm machinery while keeping construction and maintenance cost low. With the AMCO Terracing Plow, you get all the benefits of high-quality terracing while preserving precious topsoil, all at a low cost.
Owning an AMCO Terracing Plow allows you to save money by using your own equipment and operators and enjoy the convenience of building terraces on your schedule. You'll build terraces at a rate of 1,000 feet per hour or more—a sizable increase over bulldozers and other construction methods—so you won't be robbed of precious field time. Even if you're placing tiles prior to construction, the AMCO Terracing Plow allows you to use your own equipment and labor to construct 75% to 95% of the finished terrace.
After you've built your terraces with the AMCO Terracing Plow, you can rework your old, grass-covered terraces during the slow summer months while a crop is growing to either side of the terrace. A few passes each year will reshape your terraces to their necessary height and control weeds.
An investment in a quality terracing plow that you can run yourself is an investment in your farm that will pay off for years to come.